Japanese: ゾイド-M
Romaji: Zoido-Emu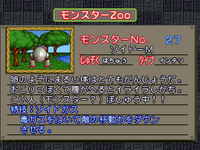 Monster Number

27

Group

Reptile

Type

Smart

Its egg-shaped body is very sturdy.

It tends to become hot-tempered and frustrated when its stomach is empty.

It is currently looking for a (monster?) lover!

Special Ability: Zoid Gas

Bring down the movement of enemies with poison
gas.
Japanese: ゾイド-M
Romaji: Zoido-Emu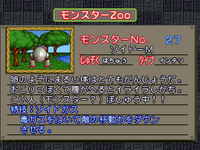 モンスターNo.

27

しゅぞく

はちゅう Hachuu

タイプ

インテリ Interi

卵のようにまるい体はとてもがんじょうだ。

おこりっぽくて腹がへるとイライラしがち。

こい人(モンスター?)ぼしゅう中!!

特技: ゾイドガス

毒ガスをはいて敵の移動力をダウン
させる。
Manga and animeEdit
Japanese

ゾイド-エム
ゾイド-M

Romaji

Zoido-Emu

Game
Level

5

Abilities
Appearances
Japanese

ゾイド-エム
ゾイド-M

Romaji

Zoido-Emu

Game
Level

5

Abilities
Appearances