Yuya Sakaki, also known as Phantom, is the primary protagonist in the Yu-Gi-Oh! ARC-V manga. He is a mysterious Entertainment Duelist whose goal is to find the "Genesis Omega Dragon" card - a card that, according to him, will decide the future of this world.
Yuya shares his body with his older brothers: Yuto, Yugo and Yuri after their physical bodies were destroyed following the World Illusion. However, Yuya can take over their body as he sees fit. He is currently being hunted by the Leo Corporation and is wanted for hacking the Solid Vision with Mass system in order to look for "Genesis Omega Dragon". Reiji Akaba calls him the "Factor of Destiny".
Design
Appearance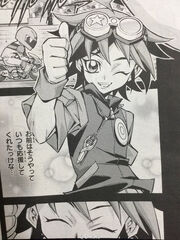 Yuya's physical appearance is similar to his anime counterpart: Being a young teenage boy with crimson eyes, and dual-colored green and crimson hair of average length sticking out in downwards pointing spikes all around his head. He wears a simple red T-shirt with a thick, silver-buckled brown belt, green pants, magenta shoes, and crimson wristbands. He also wears a pair of golden goggles with orange lenses on his forehead, with a blue star obscuring the right lens, a buckled choker, and a good-luck charm pendant. He also wears a long gold and red lined white school jacket with hood over his shoulders like a cape, which is the only form of clothing of Yuya's that remains present whenever his counterparts use their body.
During his Turbo Duel against Ren, Yuya wears a predominantly red jumpsuit with a secondary white trim and orange markings, and with padded knees. The chest of his jumpsuit is grey. Yuya wears a jacket with the same color scheme as his jumpsuit that flares out above the hips, and black-backed white gloves. He wears his googles while riding.
Personality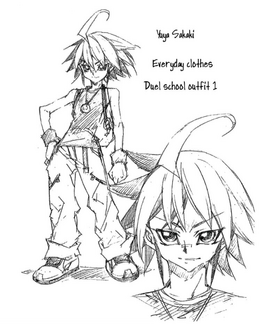 Like his anime counterpart, though he be can sarcastic at times, Yuya is a fun-loving and energetic youth who believes that Dueling is meant to make others happy and enjoys entertaining opponents and spectators alike. While he can be reckless at times, Yuya proves himself to be quite clever and skilled in Action Duels along with escape and sleight of hand techniques. Yuya is also usually friendly to other people, even to a duelist like Shun Kurosaki who follows an opposing Duelist ideology. While Yuya did express anger over Sora Shiunin intentionally harming others with Pendulum Monsters, he managed orchestrate a roundabout to win the duel without hurting the boy.
Biography
History
Yuya was a Dueltainer from twenty years in the future. Before arriving in the past, he lived with his father Yusho Sakaki and his older brothers Yuto, Yuri, and Yugo.[2] Yugo, Yuto and Yuri often played with Yuya, creating complex Duel situations and resolve them.[3] Yuya supported Yugo during his Speed Duel matches, as the latter became a Turbo Duelist.[4][5]
One day, Yuya spoke to his father, asking him why did he stop his Solid Vision research. Yusho tried to evade the question, but admitted he wanted to make his colleague, Leo Akaba, smile, since he was always held up in his research. Yusho believed if he stopped a bit, he would loosen up, which would increase his productivity. In fact, Yusho believed Leo, who still had not given up on Solid Vision research, would even surpass him. Still, Yusho reminded Yuya that he still wanted to make Leo, his friend, smile, and entrusted this lesson to Yuya, believing he'd do the same thing.[6] Before Yusho went to perform live on a stadium, Yuya asked him why was he a Dueltainer. Yusho simply stated "because", which made Yuya disappointed with the answer. However, Yusho admitted he did want to face opponents with positive attitude. Yuya reminded a lot of people put a lot of things on stake while Dueling, and that made a lot of people nervous. Yusho understood that, knowing that people that lose could even resent their opponents. However, he wanted both sides to feel good, since they gave their best in their Duels, and giving everyone a smile should enable both sides to admit that. Yuya wondered what'd happen if his opponent was too serious, and Yusho advised him to do something unexpected: he surprised Yuya with a hat trick, as it caught him off guard. Yuya smiled, and let his father go on to the performance, who entertained the audience with "Performapal Sky Magician".[7]
At Yuya's birthday, Yugo was participating in a tournament with the intent to seize the winning trophy and give it to Yuya as a birthday gift. At the same time, Duel Monsters card Genesis Omega Dragon went on a rampage after his father's friend, Leo Akaba, materialized its power for his experiment. This resulted with the beginning of destruction of the world. Under their father's instruction, Yuya and Yugo met up with Yuri and Yuto, who intended to go to his lab to meet him using the escape pods that would send them directly to the lab. En route back to their house where the escape pods were, Yuya pushed his brothers out of the way from a falling debris, rendering him unconscious. When they arrived, three of the escape pods were destroyed by falling debris. Yuto, Yuri, and Yugo decided to place their unconscious younger brother into the pod, saving Yuya's life. His older brothers, who were supposed to have perished with their timeline, somehow survived as spirits living inside Yuya. To prevent him from remembering the tragic sacrifices they made, Yuri, Yugo and Yuto decided to pose as alternate personalities created from the impact of World Illusion and to guide Yuya.[8]
When Yuya woke up, he was already at Yusho's lab. Yusho admitted that he stole the G.O.D. card from the military (considering Leo Akaba continued his research with the military on it), which started to destroy the world. He was unsure from where the card came from, but managed to find it out it was artificially created. Since there was little time left, and Yusho had only partial control over such energy, Yusho explained Yuya that he would enact World Illusion, a phenomenon that would reset time. To find G.O.D.'s creator, Yusho sent Yuya to the past while he perished along with their timeline. The impact of World Illusion caused Yuya unable to remember the full story, save that his father sent him back in time to find G.O.D.[9]
Yu-Gi-Oh! ARC-V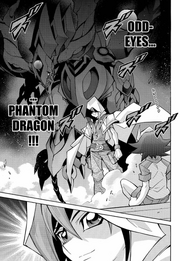 Six months later, Yuya assumed the profile of the Phantom, to complete his mission to find the G.O.D. card.[9] His presence was known to Reiji, who summoned mercenaries to fight Yuya, but warned them of his fabled Pendulum Summons.[10] Yuya had Yuto take over their body so they can keep a low profile. One day, a sight of a sad boy, who didn't make it to watch a Duel tournament, provoked Yuya to cheer him up by summoning his "Odd-Eyes Phantom Dragon". Yuto knew this was not a good idea: Yuya's good deed attracted Leo Corp as consequence, forcing Yuto to make an attempt to misdirect the leading agent Shingo Sawatari who was escaping to find Yuya.[11] But Yuto's attempt back fires when Reiji Akiba gave his subordinate orders to capture Yuto as Yuya's accomplice. When Yuto got pushed into a corner, Yuya convinced his counterpart to let him deal with Shingo as the latter and everyone witnessed Yuto turning into Yuya.[10]
Yuya proceeded to use his skills as a Dueltainer. Shingo was still confident he'd win, even as he reminded himself about Yuya's Pendulum Summons. Yuya amazed Shingo, as he sent his pigeon, Poppo, snatching the last Action Card and displaying magic tricks to confuse Shingo. Shingo attempted to mount an offense by reusing his monarch's effect with "Reawakening of the Emperor", but Yuya used Yuto's card from the Graveyard - "Phantom Knights Tomb Shield" - to negate that effect. Yuya declared "Showtime!" as he set "Odd-Eyes Mirage" and "Phantom Dragons" in his Pendulum Scale, then Pendulum Summoned "Odd-Eyes Phantom Dragon". Shingo was bewildered, but reminded his monster had more ATK than Yuya's dragon. To counter that, Yuya used the two Action Cards "Haunted Legend Pain" I and II to boost his dragon's ATK by a total of 400, enough to attack and destroy Shingo's "Erebus Monarch". As a final move, "Odd-Eyes Phantom Dragon" inflicted effect damage to Shingo, equal to the ATK of monsters in his Pendulum Zones: 2400. Shingo was blown away by the attack, while his allies cornered Yuya, who turned out to be an illusion. In fact, the real Yuya was on a different building, and used Solid Vision technology to emulate himself. Yuya, however, encountered Yuzu Hiragi, thinking she was a fan wanting his autograph. He signed a paper, and summoned a paper airplane to make his getaway. However, Yuzu went on the plane, too, which crashed into the sea. When Yuzu woke up, Yuya introduced her to his hideout, where she took her.[12]
She offered him a job for 500 yen to work at her school. Yuya was surprised how cheap the paycheck was, but explained he had more important matters to attend to. She learned of mission to find the Duel Monster card known as "Genesis Omega Dragon". Yuzu saw that he'd have to obtain that card before working at her school. Yuya didn't promise he'd teach at her school, but Yuzu revealed her trick on Yuya, as the autograph he signed was actually a business contract. In addition, Yuzu decided to become his manager, but under the low price of 100 yen per day. Yuya became overwhelmed with Yuzu's demands, but she decided to help him in the search for that card. Firsthand, Yuzu tried to get Yuya to improve his catchphrases, and admitted she won the second place in the Mental Arithmetic Championship. Soon after, via a video uploaded on an underground website, Yuzu was mortified to find Syuzo easily defeated by Shun Kurosaki who took her father hostage to force Yuya to duel him. Yuzu thought of contacting the police, but the video was already deleted once it was played. Yuya swore to go, and explained to Yuzu that Shun attempted to use a sucker technique, to make everyone think that saw this video to turn up on the soccer stadium, but instead, used code language to target a different location. The two met up with Shun on the outskirts of the city, who deployed an Action Field to fight Yuya.[13]
Shun commenced a midair Action Duel at the "Sky Tree Bird Cage". He summoned "Raidraptor - Napalm Dragonius" to thwart Yuya's attempts of obtaining Action Cards. Shun demanded of Yuya to be serious, considering the latter didn't have any aerial monsters to snatch Action Cards. However, Yuya used a giant paper airplane to take Action Cards, surprising Shun, who was about to take it. Regardless, Shun played "Sky Fall" to thrash Yuya's Action Card, and to continue inflicting damage to him. Yuya barely saved himself, and proceeded to summon "Enter-Mate Uni" and "Corn" monsters, which allowed him to add Pendulum Monsters to his hand, allowing him to Pendulum Summon "Odd-Eyes Phantom Dragon". Shun used "Raidraptors Replica" to protect the "Napalm Dragonius", but the attack caused him great damage, and ended up with 100 LP left. Despite the setback, Shun maliciously smiled, exclaiming the pain was what made him serious.[14] After Yuya admitted the two were similar in that regard, Shun flipped out. Yuya used a magician's rod to obtain an Action Card, but Shun caused an explosion to take that card first. While Yuya was saved by his monsters, Shun summoned another "Napalm Dragonius", but did not activate its effect.[15]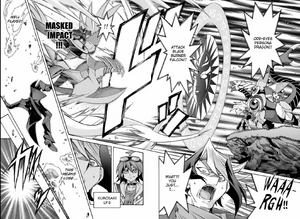 Instead, he Xyz Summoned "Raidraptor - Blade Burner Falcon", whose ATK grew to 4000, due to 3000 LP difference between his and Yuya's LP. Despite the risk, Shun attacked Yuya's "Odd-Eyes Phantom Dragon", causing him to lose 1500 LP, and the dragon was added face-up to Yuya's Extra Deck. Moreover, he detached its Overlay Units to destroy Yuya's "Enter-Mate" monsters. Playing the "Second Attack" Action Card, Shun went to defeat Yuya, who used "Enter-Mate Uni" effect to lower the damage he'd take, leaving him with 100 LP left. The impact of his attack burned the branch which Syuzo was on, as Yuzu attempted to untie him; Shun paused the Duel to save them and telling them off for interrupting the match. When Yuya's turn began, he uses a counter-strategy with his "Odd-Eyes" cards: he Pendulum Summoned "Odd-Eyes Phantom Dragon" from his Extra Deck, then played the effect of "Odd-Eyes Persona Dragon" to swap it with "Phantom Dragon" to avoid Shun's "Sky Meteor", which would've banished the monster. As a final move, Yuya's "Persona Dragon" negated the effect of Shun's "Blade Burner Falcon", causing its ATK to be reset to 1000. An attack from "Persona Dragon" defeated Shun, who was falling down. Since Shun saved Yuzu, Yuya saved Shun, and asked if he had any fun while Dueling. Yuya disappeared with Yuzu and Syuzo. At Syuzo Duel School, Syuzo Hiiragi examined Yuya, and noted the latter talked a lot to himself. In response, Yuya told he had quadruple personalities, which shocked Yuzu and Syuzo.[15]
Yuya simply stated his memory was fragmented. Syuzo was worried about this, but Yuzu believed this mysterious person should attract more students. Yuzu wondered if those personalities had some ties with Yuya's quest for "Genesis Omega Dragon". Yuya exclaimed that the person who wielded that card could destroy the world, by using Solid Vision. While Syuzo was overwhelmed by this information, Yuzu wondered where did he even learn all of that. Yuya muttered it was in a dream, before claiming Yuzu should work on fixing his catchphrase. As he stormed off, Yuzu decided to accompany him as his manager. Syuzo and Yuya were not pleased, considering Yuzu was too young to be out in the night, but Yuzu voiced her concern over that GOD card. They went to Yuya's hideout, where Yuzu took some space as her room. The next day, Yuya received a signal about information on "Genesis Omega Dragon" at Leo Corporation. Thus, Yuzu, dressed in a suit, helped Yuto infiltrate the Physical Information Company, using a fake ID card to bypass the security. They went in an empty room what turned out to be a trap set by Sora Shiunin. Sora anticipated them, and Yuya swapped sides with Yuto to talk to the guy.[16]
After a brief banter, Yuya not answering his questions while admitting to the youth that he knew nothing each about the G.O.D card, Sora commenced an Action Duel with "Candy Park" as their setting. Sora started off with a Fusion Summon of "Frightfur Bear", using "Edge Imp Sabres" and "Fluffal Bear" as material. Yuya tried to get Action Cards, but the stage was rigged with traps, so Sora had the advantage of obtaining them. Yuya, who noted that the traps had some impact, set his Pendulum Scale with "Enter-Mate Ballad" and "Barracuda", then Pendulum Summoned "Enter-Mate Handsome Liger". The monster sliced through Sora's bear, and Yuya started gaining the advantage, as he obtained an Action Card. Just as he was to play "Enter-Mate Show Up" to protect his monster, he got a photo of Sora and his sister. Sora started to cry as he fought for his sister, Miu Shiunin: he claimed that that Reiji was holding Miu hostage and that he had to beat Yuya to ensure her safety. Yuya refused to activate his trap, and Sora played "Powerize" to bulk up his "Frightfur Bear" by 1000 ATK. Yuya took 1400 LP damage, and Sora's bear equipped "Handsome Liger" to itself to increase its ATK even more. As Sora pleaded Yuya for forgiveness, Yuya heard a call from someone. In a moment,Yuri took over his body. Sora tried to influence Yuri, who didn't care about his sick sister, showing his cold-hearted side.[17] Yuri did not trust Sora, claiming he was scum, as he proceeded to mercilessly attack him. Yuya tried to sway Yuri, who pointed out Sora was faking everything, which the latter had confirmed. Sora used cheap tricks to get Action Cards, and bring out "Frightfur Daredevil", which knocked Yuri to 100 LP.[18]
Yuri kneeled in pain, Sora then added that he also rigged the dueling system to inflict three times the normal amount of pain. This forced Yuya to switch sides with Yuri, since he wanted to tell Sora something. As they did, Sora anticipated anger from Yuya for tricking him, but Yuya simply replied that using entertainment to hurt others was forbidden. Sora chuckled, while Yuya swore to defeat Sora for hurting Yuri.[18] To stop Sora from getting the next Action Card, Yuya set his Pendulum Scale with "Odd-Eyes Phantom" and "Persona Dragons" to Pendulum Summon his "Mirage Dragon", "Enter-Mate Barracuda" and "Ballad". The monsters blocked Sora's path, and Yuya proceeded to defeat Sora by buffing up his "Ballad" and reduce the ATK of "Daredevil", all to power up "Mirage Dragon". With the 2400 ATK "Mirage Dragon", it attacked "Frightfur Daredevil", who had 500 ATK left. When Sora realized Yuya was using roundabout tactics to beat him without even suffering once, the boy became utterly enraged at what he considered an act of pity. Sora retaliated by using the two Action Cards he obtained to self-inflict 2000 points of damage, which would cause the dueling field to self-destruct at the possible cost of Sora's life. While Sora was taken away by a mysterious man, Yuya switched sides with Yugo, who summoned a Duel Runner to take Yuzu away. At the hideout, while Yuzu was looking after the unconscious Yuya, his personalities found out someone was hacking them, and Yugo decided to investigate more.[19]
While Yugo was facing the masked man inside Yuya's mind in a Turbo Duel, he fell off a curve. To save him, Yuya summoned a pathway inside his mind, thus saving Yugo's life and letting him continue the Duel.[4] When Yuya came to one his couch, he is informed by Yuto and Yuri of what occurred while he had been out: Yugo faced a masked Turbo Duelist named Ren who was apparently of a third faction that knew where they came from. They also told that he entered Yuya's mind to find something called the Adam Factor. As Yuzu returned from grocery shopping, Yuya became alerted, and informed that he had a friend coming over. In fact, that friend was Reiji Akaba, who did not consider Yuya as a friend, had found his hideout and entered it. Yuya expected a tough Duel against Reiji, telling Yuzu to sell his stuff if he did not come back. He triggered a trapdoor that sent him and Reiji to an underground cave under the water treatment plant. Reiji noted the nearby escape pod which had brought Yuya to the present; Yuya attempted to reason with him that they didn't need to fight. But Reiji insisted out of fate and blaming Yuya's father for causing the death of his father, Leo Akaba. Reiji also insisted on a normal duel when Yuya was about to set up an Action Duel; Yuya accepted that deal, while still intending to entertain his opponent.[20]
Yuya went to Pendulum Summon three of his "Performapal Card Gardna", whose effects reinforced his defenses. Reiji was nevertheless pleased, for he could go all out from Yuya, his arch-nemesis from the future, and nobody would care if something happened to either of them. Yuya agreed, for nobody would believe them if they said they came from the future. Reiji still blamed Yusho Sakaki for his father's death, for triggering G.O.D.'s power, which allowed them to materialize matter in the virtual dimension. Yuya thought Reiji had some idea about G.O.D.'s origins, since his father didn't have the time to tell him about it. Reiji mentioned that G.O.D. came from between dimensions, from a wormhole that connected to a new dimension. Reiji muttered that they also inherited Pendulum Summons from their fathers before the future world was destroyed. He used that Pendulum Summon to bring out "D/D/D Supersight King Zero Maxwell". With "D/D Count Surveyor", he merged Yuya's "Card Gardnas" into one, whose DEF became 9000. His ace monster attacked, causing the DEF of "Card Gardna" to drop to zero, and Yuya took 2800 LP damage, as Reiji proclaimed that he had no interest in Yuya's entertainment.[21]
Yuya defended himself, stating he didn't come to take control over the power of G.O.D., but Reiji refused to listen, until Yuya would defeat him. Yuya tried to inspire Reiji with entertainment to Pendulum Summon his monsters over and over. Reiji, who was disinterested in Yuya's tricks, told that his "D/D Scale Surveyor" turned Yuya's monsters' Pendulum Scales to zero. Just then, Yuto appeared, who played "Pendulum XYZ" to use the monsters in his Pendulum Zones as Xyz Material, summoning "Dark Anthelion Dragon". After Yuto played his turn, he swapped sides back with Yuya. "D/D/D Supersight King Zero Maxwell" attacked "Dark Anthelion Dragon", who detached its material to lower the ATK of Reiji's monster, and recover Yuya's LP. However, Reiji played "00 Rush" to have "D/D/D Supersight King Zero Maxwell" attack once more, which lowered Yuya's LP to 1200. Yuya took his turn, and Yuri took his place, as he played "Dowsing Fusion" to Fusion Summon "Starving Venemy Dragon".[22]
Yuri, who managed to inflict some damage to Reiji with "Staving Venemy Dragon". saw that Yuya was right that Reiji was no simple opponent; Yuya came back to speak with Reiji, and told that the story he was told about G.O.D. was much different. In fact, Yuya was told that Leo didn't want to stop the experiments on that card, and Yusho sent Yuya to the past to stop that card. Reiji thought that Yuya was blaming Leo for the incident, and swore he'd listen when the Duel was over. Reiji used "Creative Destruction" to destroy his "D/D/D" monster and add one to his Deck. Since "D/D/D Supersight King Zero Maxwell" was a Pendulum Monster, Reiji managed to Pendulum Summon it, then tribute it to bring out "D/D/D Destiny King Zero Laplace", whose ATK becomes double that of the monster it battled with. Reiji made his offense, as "Laplace" attacked his "Starving Venemy Dragon", which was put into Defense Position, due to "Block Attack". Yuya evaded the damage, as "Starving Venemy Dragon" was placed into his Pendulum Zone. Reiji placed his "00 Rush" once more, and destroyed "Dark Anthelion Dragon". Yuya took no damage once more, and the latter was placed into the Pendulum Zone. To seal the deal, Reiji's "Scale Surveyor" turned those monsters' Pendulum Scales to zero. Yuya confidently smiled, and announced an "Overscale Pendulum".[9]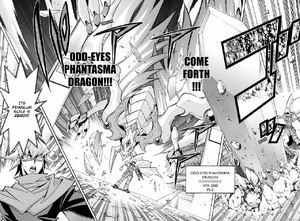 As his counterparts' dragons Pendulum Scales' were turned to zero, Yuya used Overscale Pendulum to summon "Odd-Eyes Phantasma Dragon" to turn the tables. It attacked, and lowered Reiji's "D/D/D" monster's ATK by 1000 per number of Pendulum Monsters in his Extra Deck, summing up to 5000. However, Reiji's "Destiny King Zero Laplace" protected itself by its effect, reducing the damage to zero and negating its own destruction. On his turn, Reiji summoned a demonish monster his father gave to him. But the youths' Duel was postponed when Reiji revealed they were being watched by a camera sphere, with Yuya encountering Ren when he appeared. Ren revealed that the G.O.D. card in in the possession of his leader Eve and that they needed the Adam Factor which both Yuya and Reiji possessed to unlock the full power of "Genesis Omega Dragon". But the damage caused by the duel caused a cave-in, forcing all parties to escape. Once safe, Yuya attempted to convince Reiji that they needed to join forces against the new threat Eve poses. But Reiji refused and left, Yuya feeling that Reiji would reconsider once he accepted the truth of what he had said to him.[23]
Two weeks later, Yuya was training in the sewers to become a Turbo Duelist. When Yuzu went into the sewers, Yuya accidentally splashed her as he drove his Duel Runner among the water. He apologized, and explained he was training in the sewers so that the enemy would not find him, and reminded her of the guy that came on the Duel Runner in the cave. Yuya was uncertain who he was, but knowing that the enemy had G.O.D. card, he knew he'd have to face them soon. Yuzu also wondered why couldn't he call upon Yugo, who thought he should train, just in case.[24] Yuya called Ren out, but Yugo quickly took over his body to settle things with the masked man. Inside his mind, Yuya gasped, as he saw something important.[25] He looked at his real memories, and was astonished to see them. In the middle of the battle, Yugo felt his consciousness fading away, and switched sides with Yuya, wishing him luck in finding out the mystery behind "White Aura Biphamet". Yuya became shocked to have been summoned in the middle of the Duel, just as "White Aura Biphamet" was to attack.[3]
Fortunately, Yuya managed to figure out Yugo's strategy: he used "Sonic Cyclone" to destroy "Speedroid Hexasaucer", whose effect caused it to Special Summon on the field. As the attack of "Biphamet" resumed, "Speedroid Hexasaucer" halved the damage Yuya'd taken, and inflict that much to Ren. Ren was astounded that Yuya figured out Yugo's strategy so quickly, who thought of games he played with others. On his turn, Yuya summoned "Enter-Mate Rolling Samba" and set a card. Ren suspected a trap, and used "Reverse Lock" to prevent him from using his set trap. However, Yuya's "Rolling Samba" switched its position and negated the attack of "Biphamet". Much to Yuya's shock, Ren's "Biphamet" attacked again, so Yuya used "Speedroid Marble Machine" to switch "Rolling Samba" back to Attack Position, and have it banish "Sonic Cyclone" to reduce the damage Yuya would take to zero. While Ren was frustrated that Yuya survived another attack, the latter noted he had to solve the effects of "Biphamet" to win the Duel.[3]
As Yuya mused how to defeat Ren's monster, Ren screamed in pain, and nearly lost the control of his D-Runner. Ren noted his symptoms were worsening, and noted it was time to end the Duel. Yuya proceeded on to win the Duel, for Yugo's sake. Summoning "Performapal Clay Breaker", Yuya had it attack Ren's monster. Ren thought its ATK would increase, and used "Limit Lock" and "Full Turn" to prevent that effect and finish Yuya off. Instead, Yuya's "Clay Breaker" decreased the ATK of "White Aura Biphamet", and inflicted 400 LP damage to Ren. Yuya was in shock, as Ren's Synchro Monster's head regenerated itself. Ren exclaimed it was a god, and could not die, just like him. In fact, Ren admitted that he lived countless lives, and G.O.D. chose him to revert a dire situation to save himself and his father, and was visited by Eve to complete the assignment for Genesis Omega Dragon. Ren admitted he also started to believe in the god, and removed his mask, showing a scar on his face. Yuya became bewildered, as Ren looked much like Yugo, the guy that Ren idolized.[26]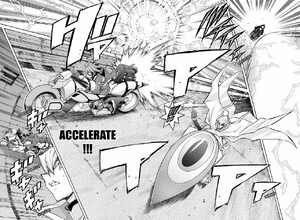 Ren admitted he did not understand G.O.D.'s goal, but resolved himself to complete the task it gave to him, since it saved him. Yuya set a card, while Ren boosted the ATK of "White Aura Biphamet" through "White Nightmare". The latter attacked Yuya's "Performapal Clay Breaker", who managed to reduce its ATK by 1500. Ren's monster made another attack, but Yuya saved himself by summoning "Peformapal Kuriborder", and forced Ren to attack it with "Trick Barrier". Though he barely survived, Yuya knew the effects behind "White Aura Biphamet". Ren yelled at Yuya for being too scared to defeat him. However, Yuya used "Booster Unit", and with Yuzu's help, his speed was increased enough to obtain an Action Card. Next, he Pendulum Summoned "Clearwing Fast Dragon", and Special Summoned "Odd-Eyes Phantasma Dragon" from his hand, much to Ren's shock that he regained the advantage. His monsters went to reduce the ATK of "White Aura Biphamet", but Ren used "White Barrier" to protect it, as long as he had another "White Aura" monster. Yuya grinned, for Ren just showed that his "White Aura Biphamet" was treated as two monsters: one's head could revive the other, and attack twice per turn. Ren smiled, as Yuya figured out his strategy. Yuya used "Exhaust Note" to stop Ren's "White Howling", and two of his dragons attacked "White Aura Biphamet", thus defeating Ren.[27]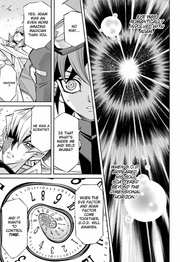 The force of the attack knocked Ren off his Duel Runner, his body beginning to dissolve as consequence of being altered into an ageless being by the G.O.D. card. However, he admitted he had fun in the Duel against Yugo. Before falling back, Ren revealed the true nature of the Adam Factor to Yuya while musing if his will could resist the G.O.D. card's influence. Before he could say anything about G.O.D., Ren retreated through a portal, but warned him that G.O.D. would attempt to bargain with Yuya. Yuzu came to Yuya and congratulated him, who explained Ren must've disappeared like Sora. Yuzu, however, asked if Yugo was Yuya's personality, how did Ren claim to be Yugo's descendant. She thought Ren meant Yuya as his descendant, who denied that claim, but Yuzu realized that would make Ren a man from the future. Yuya believed it would make sense in time. Suddenly, Yuzu took him to the control room, where they saw Reiji on a monitor, who was at a space station.[28] They saw Reiji facing Isaac, a new opponent. Yuya anticipated a mind-blowing Duel from Reiji against this new foe.[29] Reiji attempted to attack Isaac, who used his "Mirror Imagine" combo. Yuzu thought his attacks were useless, but Yuya reminded that Isaac had already used three of his monsters for that combo to work, and had no such cards to back him up a fourth time, and thought Reiji was aiming for something else.[30] Yuya continued to watch the Duel. When Isaac tributed three of "Prism Coat 8" to make "Catadioptricker 7" immune to card effects, Yuya explained to Yuzu it was like the three arrows of Mori clan: the three effects made that monster unbreakable, just like the arrows combined had been. He became shocked when an explosion caused Reiji and Isaac to float in outer space.[31]
Once Reiji landed back to Earth, Yuya and Yuzu rode on the Duel Runner to reach him and his allies, Shingo and Shun. Reiji admitted he found the enemy's base, and Yuya and Yuzu decided to tag along on his airplane. Reiji permitted them, and discovered the enemy's base was on Antarctica itself. While they were flying, Yuzu reminded Shun and Shingo of the enemy, Ren, who appeared in the cave during Yuya and Reiji's Duel. Reiji let Yuya explain who the enemy was, and much to others shock, stated they were from the future. Reiji only confirmed Yuya's answer, declaring Sora was one of them, sent to spy on him. Going to the private quarters, Reiji didn't care whether they believed that fact. Still, he wished to go to the enemy's base, and with luck, the enemy would take the bait by revealing their location. Yuya noted it was like Reiji discovering his hideout, for Reiji didn't want to prolong the fight. Yuya wished to speak about the Adam Factor, which he and Reiji had. Yuya, making a magic trick with a card, believed that the enemy was trying to change history, considering Ren relived his life again. Yuya, showing a card with an art of "Performapal Skullcrobat Joker", claimed their era was one of the victims of their attacks. He simply stated he wished to destroy the G.O.D. card before more damage was done, thus preventing anyone from messing up space-time. Reiji remained silent, but let Yuya know they still were not friends. Eventually, the group landed their airplane on a pad on the South Pole. This way, the group knew that was the enemy's hideout, which was made using advanced technology.[32]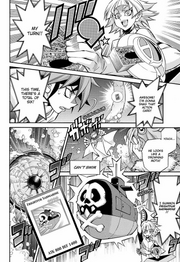 The group went inside, and found the base to be futuristic-looking. The group decided to split up, as Yuzu and Yuya took a corridor. As they continued walking, Yuzu wondered if the enemy knew her future, and fantasized whom she'd marry, wishing that guy was cute. Yuya didn't dare to answer, which made Yuzu blush, thinking that guy was Yuya. Suddenly, they came to a pool, in which Yuya walked into. However, he started to drown, for he could not swim, so Yuzu jumped in to save him. He grabbed her by her chest, causing her to violently hit him in the head. The two took a moment, seeing the water was quite strange, as they could breathe and talk normally, and were surrounded by strange pillars with bubbles. Just then, Sora dived in, and greeted Yuya, his enemy. Sora, wearing a special jumpsuit, jumped into a special pool, where Yuya and Yuzu were. After a brief silence, Yuya asked Sora why did he join the enemy. Sora admitted he was actually a member of Eve's group, and entered the Leo Corporation as a spy. However, he also removed some of his memories, to not let Reiji get suspicious of his real personality. He also admitted G.O.D. permitted him to live through many lives, but was now under its contract to serve the entity. He aimed at taking Yuya's power to awaken G.O.D., who would grant Sora the perfect world he wanted to live in. Since Eve would not face Yuya until Sora was defeated, the two started an underwater Duel. Since Yuya could not swim, Sora summoned "Frightfur Sadmarine" and rode it to obtain an Action Card. As Yuya failed to have his bird take the Action Card, Sora snatched it and set a card. Yuya tried to move around by summoning "Enter-Mate Mer☆Maid". However, "Frightfur Sadmarine" inflicted 800 LP damage to Yuya, who failed to obtain the Action Card.[33]
Sora obtained it instead, and played "Bubble Down" to lower Yuya's mermaid's ATK by 800. In addition, his "Bubble Bomb Memory" inflicted another 800 LP damage. As Yuzu was struck by a bubble, she sensed something, and Yuya threw a life ring to make her float back to surface. Sora threw a bubble at Yuya, who was suddenly teleported on a road, and was nearly hit by a truck. Sora explained that was a vision of a person's memory, who served G.O.D. Yuya understood that as sensors for G.O.D., which Sora confirmed. Yuya demanded to know what G.O.D. wanted, but Sora didn't know, nor did he care. He exclaimed he just wanted a world where he and his sister were together. Yuya remembered that Sora confirmed that was a lie, but Sora stated that a pulse made him block that memory. In fact, Sora told that she had a life-threatening illness, from which she could not be cured. Thus, he threw a bubble at Yuya, who saw Sora's last moments with his sister, Miu. Sora exclaimed that G.O.D. permitted him to relive his life, but every time he did that, Miu passed away. It is why he wanted to defeat Yuya and obtain his power to awaken G.O.D., to make a world where his sister would live.[33]
Yuya asked about this power, which Sora described as the power to create parallel worlds, where a person's wishes would come true. Yuya wondered if Sora believed this power existed, but Sora assured him that he relived his life many times, through G.O.D.'s power. He yelled out G.O.D. could create a paradise for people. Yuya simply asked if it was ethical to make a world just for one single person. Sora was infuriated, as Yuya set a card. Sora replied that he wished to be with the sister he had lost, and asked if Yuya felt the same way to lose someone he cared about. Sora placed "Frightfur Claw Pirate" and "Bone Diver" in his Pendulum Zones to Pendulum Summon "Frightfur Meister". He began preparing, summoning a "Frightfur Sadmarine", and having two copies used as materials for Fusion Summon of "Frightfur Daredevil". His monster destroyed Yuya's mermaid, and inflicted 1000 LP damage to Yuya. As Sora gained the advantage, in response, Yuri switched bodies with Yuya.[34]
After Sora was defeated, Yuri swapped places with Yuya, and carried Sora and Yuzu outside of the pool. Shingo and Shun tried to wake Sora up from the coma. Yuya admitted he had no choice but to fight Sora, while Shingo and Shun were still disappointed that all this time Sora was a spy in their midst. He told that Sora had a sister, who passed away, but believed Shingo and Shun were still his friends that would look after him. Shingo remained silent a bit, but swore to take Sora to the infirmary. Yuya noted Sora had no more companions that he could rejoin, and also asked that they took Yuzu to the infirmary as well. Shingo and Shun were annoyed as Yuya dashed away, but noticed Reiji was gone, too. Yuya went through corridors, and called out to Eve to face him. A path showed up, and Yuya went to it, and encountered a portal. Knowing Eve was behind it, Yuya braced Yuto to venture inside.[35] Yuya confronted Eve in a strange space. She confirmed having the G.O.D. card. Yuya pointed out Sora, Isaac and Ren suffered defeat for that card, wondering if it really was that powerful. Eve simply proclaimed she had to use the power to return the happiness, which was stuck in a time that was lost to them. Yuya admitted he knew that feeling of losing ones that were close to him, but reminded she was using the card to twist time for her own needs. Eve claimed there was no harm in that, considering people were not aware of its power. Yuya replied he knew how worthless life can be if lived on repeat. Eve doubted that, since happiness was attributed to single individuals.[36]
Yuto stopped Yuya from talking, believing Eve was tainted by G.O.D. card, and the only way to cure her was to take that card from her. Eve promised to take Yuya's Adam Factor and activate G.O.D.'s potential. Yuya reminded that could only happen if he defeated her in an ordinary Duel, since he saw the place was unfit for an Action Duel. Yuya began by setting his Pendulum Scale with "Enter-Mate Odd-Eyes Valet" and "Butler", to Pendulum Summon "Odd-Eyes Phantom Dragon" and "Enter-Mate Miss Director" to protect his monsters and himself. Eve noticed this unbreakable combo, and set her Pendulum Scale with "Mystic Hell Gate" and "Heaven Gate" to summon the three Level 10 "Mystic Factors": "Balthazar", "Melchior" and "Caspar". Using them, Eve Fusion Summoned "Phantasm Emperor Trilojig", Synchro Summoned "Timelord Progenitor Vorpgate" and Xyz Summoned "No. XX Infinity Dark Hope", at the cost of quartering her LP. Yuya noticed these were Legendary Duel Monsters: "Number", "Timelord" and "Sacred Beast". However, Eve went to recover her LP with her "Number" at the End Phase.[36]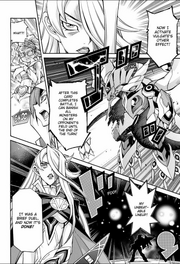 Eve reminded she crossed time countless times, giving her the power over this ultimate deck. Yuya was nevertheless thrilled, since he never had an opportunity to battle such an opponent. Eve's "Timelord" attacked Yuya's "Odd-Eyes Phantom Dragon", only to have it banish all of Yuya's monsters. Eve went to finish Yuya directly with her "Sacred Beast", but Yuya stopped the attack with "Smoke Mosquito", halving the damage he would've taken. Eve recovered her LP, while Yuya's banished monsters returned. Yuto took over Yuya, ordering him to think of a strategy, since Eve was the ultimate foe.[36] Yuya was inside his mind, and saw his memories. Yugo and Yuri appeared to him, crushed that they could not prevent him from remembering his tragic memories. Eventually, Yuya swapped places with Yuto. Yuya knew the truth, and Yuzu confirmed it: Yuya's personalities were actually his brothers.[2] Yuzu began to see Yuya's brothers, due to the effects of the place they were in. Yuya spoke of his brothers, who sacrificed themselves during the World Illusion to keep Yuya alive. He turned to them, and cried as he thanked them for that sacrifice.[8]
Despite Yuya and his brothers' story, Eve simply continued the Duel, as Yuya declared he won't forgive her if she'd use the G.O.D. card. Eve, however, continued on, as their monsters' ATK returned to normal, and her LP became 6000. She drew a card, and briefly paused before declarig she would defeat Yuya, her hair style having changed. Much like last time, "Timelord Progenitor Vorpgate" banished all of Yuya's monsters, before proceeding to attack Yuya directly with "Phantasm Emperor Trilojig". Yuya already protected himself when "XYZ Wings" left the field, halving that damage and leaving him with 500 LP left. To stop the attack from "No. XX Infinity Dark Hope", Yuya used "Enter-Mate Odd-Eyes Butler" to return "Odd-Eyes Phantom Dragon", negate the attack of the "Number" and gain some LP, too. To stop the three monsters, Yuya used "Smoke Mosquito" and "Enter-Mate Miss Director" as materials for the Synchro Summon of "Clearwing Fast Dragon". Yuri, Yugo and Yuto swore to help Yuya in defeating Eve; Yugo had "Clearwing Fast Dragon" negate the effects of "Phantasm Emperor Trilojig", as well as having its ATK 0. The former attacked the latter, though Eve protected her monster with "No. XX Infinity Dark Hope" and revived "Phantasm Emperor Trilojig", who inflicted 1500 LP damage on Yuya, equal to half the ATK of "Dark Anthelion Dragon". Since Yuya anticipated the move would backfire, Yuri stepped in to play "Penetration Fusion", fusing Yugo and Yuto's dragons to Fusion Summon his own dragon, "Starving Venemy Dragon".[37]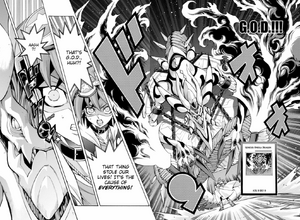 The dragon negated the effects of "Timelord Progenitor Vorpgate" and applied it to itself, and attacked it. Eve's combo was triggered again, reviving the "Timelord" monster and leaving Yuya with 250 LP left. Yuri had counted on that, declaring he was near defeating Eve; the applied effect of "Starving Venemy Dragon" banished all of Eve's monsters. Much to Eve's shock, Yuya used "Penetration Fusion" to tribute Yuri's dragon and power his own dragon up by 500 ATK. With no defenses left, Yuya declared a direct attack with 3000 ATK "Odd-Eyes Phantom Dragon" on Eve, who had 3000 LP left.[37] A voice called out to Eve to "play it". Just as "Odd-Eyes Phantom Dragon" attacked her, Eve's card was glowing. She made Yuya and others question their victory: using the power of "Mystic Hell Gate", Eve destroyed her Pendulum Monsters in her Pendulum Zone to Special Summon "Genesis Omega Dragon". Her face twisting in pain, Eve became scarred as she fused with "Genesis Omega Dragon", who spoke to Yuya through her. Yuya became terrified to see the monster that caused the trouble he went through, and felt a pain in his chest. G.O.D. demanded Yuya and his brothers as sacrifices for its strength; in fact, it was it that granted happiness and led people to despair, like Isaac, Sora, Ren or Eve.[38]
It spoke to Yuya that it wanted to give everyone the time they desired, and warped Yuya and Yuzu to see what happened to Sora and Ren. G.O.D. admitted that the worlds it visited, were destroyed by its own people: a pursuit of happiness caused civilizations to stop their progress and turn on each other. It added Sora and Ren as its victims to give it the strength that it lost, since Adam stole some of its power. Yuya knew that Ren and Sora overcame their trials without G.O.D.'s power, and thought they had hope, a thing that G.O.D. was frightened of, since it could not tempt people into their desires. Yuya swore to stop G.O.D. by having "Odd-Eyes Phantom Dragon" attack, but much to his shock, G.O.D. placed a "Nova Portal" to prevent that attack and abrupt Yuya's turn, ending it. On G.O.D.'s turn, its effect caused it to gain 1000 ATK at every turn. Furthermore, G.O.D.'s effect allowed it to destroy Yuya's dragon, since he had one Pendulum Monster in his Pendulum Zone. With no monsters left, it went to attack Yuya directly, who used "Enter-Mate Odd-Eyes Valet" to reduce that damage to zero and continue on.[38] Yuya believed G.O.D. had tempted his and Reiji's father. G.O.D. admitted that Yusho Sakaki and Leo Akaba gave hope to everyone, but the former made an unexpected move in form of World Illusion. Yuya and his brothers realized that their father and Reiji's were victims of G.O.D., too. As Yuya's brothers started fading, Yuya swore to end the Duel quickly, and Pendulum Summoned "Dark Anthelion", "Clearwing Fast", "Starving Venemy" and "Odd-Eyes Phantom Dragon", which displeased G.O.D.[39]
Yuya went to attack with "Dark Anthelion Dragon", but G.O.D. placed another "Nova Portal" to end the attack and end Yuya's turn, too. However, Yuya counted on that, as his "Clearwing Fast Dragon" used its effect to decrease the ATK of G.O.D. to zero, and negate its effects. G.O.D. applauded them, since it could not use its effect as both its Pendulum Zones were occupied. However, it destroyed both "Nova Portals" to negate the dragon's effect, and end the current turn. Yuri, Yugo and Yuto were shocked, since G.O.D. could now repeat its effect over and over. Yuya was given the option to surrender, since that would give him the hope to Yuya, a world where they would not know each other, and Yuya's family could live in peace. Yuya was given a vision where he and his family would spend time together on his birthday, who'd receive Yuri's roses, Yugo's championship cup and Yuto's lunch as presents. G.O.D. offered Yuya a chance to restore his brothers, by merely giving up. Yuya was torn down, but Yugo, Yuto and Yuri stopped him, reminding he should not change the truth that they passed away, and reminded they would always be with their little brother. They faded away, giving Yuya a final hope to defeat G.O.D. Yuya cried, and drew the card that represented them: tributing all of his dragons, Yuya summoned "G.O.D.-Eyes Phantom Dragon".[39]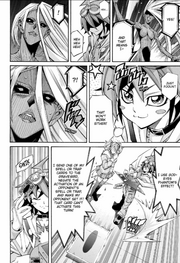 G.O.D. was amazed it was near victory, but Yuya smiled, since he fooled it. The final effect of "G.O.D.-Eyes Phantom Dragon" allowed Yuya to send one card from his Spell & Trap Zone to negate the effect of "Nova Portal" and set it, preventing it from activating. Yuya pointed out this was what G.O.D. did: giving hope then tricking people for its own desire. G.O.D. became startled, realizing this was the manifestation of Adam Factor that Yuya unleashed, in form of this monster. G.O.D. was still arrogant, since his monster had 4000 ATK. Regardless, Yuya's "G.O.D.-Eyes Phantom Dragon" attacked it. G.O.D. suspected something behind the attack, and placed "Nova Portal" to his Pendulum Zone to end the attack and that turn. Yuya anticipated this, as "G.O.D.-Eyes Phantom Dragon" shifted time to two turns ahead, causing "Genesis Omega Dragon" to gain 2000 ATK. Yuya explained if the attack of his dragon was negated, he could skip an entire turn to his next Battle Phase. G.O.D. refused to play its effect, but realized that would give Yuya an advantage: "G.O.D.-Eyes Phantom Dragon" caused G.O.D.'s ATK to lower by the number of monsters used to Tribute Summon it, and it gained that much ATK: 4000. G.O.D. was furious, and played another "Nova Portal" to negate the attack of "G.O.D.-Eyes Phatnom Dragon", causing it to shift time by two turns forward. Yuya knew G.O.D., who had 8000 ATK, could not place more cards in its Pendulum Zones, but it went to destroy "Nova Portals" to negate the attack. Yuya panicked, seeing he forgot about that.[40]
G.O.D. was amazed it was near victory, but Yuya smiled, since he fooled it. The final effect of "G.O.D.-Eyes Phantom Dragon" allowed Yuya to send one card from his Spell & Trap Zone to negate the effect of "Nova Portal" and set it, preventing it from activating. Yuya pointed out this was what G.O.D. did: giving hope then tricking people for its own desire. Declaring "G.O.D.-Eyes Creation", Yuya's dragon negated the effects of "Nova Portals". "G.O.D.-Eyes Creation" attack targeted G.O.D., lowering its ATK to 4000, while boosting its own to 7000. Yuzu was thrilled, seeing Yuya won this Duel. G.O.D. withdrew into its own card, releasing Eve from its grasp. Adam appeared and held Eve, whose curse was lifted. Adam and Eve turned to Yuya, thanking him for defeating G.O.D. The two lovers disappeared, which made Yuzu wonder how it felt to see someone one has tried to find after so much time. With the enemy defeated, Yuzu cheered for Yuya, and reminded due to the contract he signed, he had to return to Syuzo Duel School to become a teacher. Before that happened, Yuya wanted to destroy the GOD card, but then Reiji appeared.[40] Reiji claimed he could not allow Yuya to destroy that card, for he wanted to use it to rule space and time. Yuya stared in disbelief, for he and their fathers spent effort to prevent the destruction of the world from that card. Reiji stated he knew that, and it could be used for good or ill purposes.[41]
Yuya defended his stand, for no human should have such power. Reiji stated he wanted such power, but Yuya tried to confront his point, for he could simply rule the world as he saw fit. Reiji replied that he had such capability, for Adam gave a part of his factor to him. Reiji stated he wanted the power to analyze it; as a scientist, he wanted to learn rather than destroy such a card. Yuzu became annoyed at Reiji, who pointed out they have to settle their differences. Despite Reiji's hatred towards entertainment, he and Yuya used their parts of Adam Factor to set a scene for an Action Duel: a giant tree. Yuya went to grab an Action Card by riding his companion, Poppo. However, he was beaten by Reiji, who used his scarf to gracefully swing to that card. Reiji set his Pendulum Scale with "D/D Evil" and "D/D Arch" to summon "D/D Dog". Yuya attempted to use his wand, by extending it into a stick, to grab an Action Card, but Reiji folded his scarf as a boomerang to destroy that stick. Yuya barely hung on a branch, as Reiji obtained that Action Card. As Reiji put his scarf on, Yuya, using "Speedroid CarTurbo" and "Block-n-Roll", Synchro Summoned "Clear Wing Fast Dragon".[41]
Reiji had his "D/D Dog" immobilize Yuya's Synchro Dragon, making it unable to attack or use its effects. Yuya tried to continue by summoning "Starving Venemy Dragon", though Reiji used "Doppler Demon Dowsing" to simply summon another "D/D Dog" and negate that dragon's attacks and effects. Reiji summoned his third "D/D Dog" to stop Yuya's "Dark Anthelion Dragon"; Yuya summoned his Fusion and Synchro Dragons back through Pendulum Summon. Again, Reiji countered them with the effect of "D/D Evil" in his Pendulum Zone, which shocked Yuya how Reiji continuously foiled his tactics. Yuya thought this could've been the case, and tributed his Fusion, Synchro and Xyz Dragon monsters to summon "G.O.D.-Eyes Phantom Dragon". Yuya boasted his dragon could not be stopped, but Reiji played "Go-D/D World" to stop Yuya from attacking this turn. Yuya became frustrated, while Reiji unfolded his scarf into a muffler, so he could fly and take the next Action Card. For his next move, Reiji used "Go-D/D Ark" to Pendulum Summon his G.O.D.-amplified monster, "Divine Go-D/D/D Zero King Zero God Reiji".[42]
Yuya noted that must've been Reiji's G.O.D. monster. Reiji tributed three of his "Go-D/D Dog" monsters, causing all of Yuya's cards he had in his hand, field and GY to become nonexistent, and allowed "Divine Go-D/D/D Zero King Zero God Reiji" to attack Yuya directly. Since the latter's effect would cause an automatic victory for Reiji, Yuya tributed "EnterMate ClassiKuriboh" to narrowly stop that attack. Reiji ended his turn, but boasted that Yuya had no chance of winning. Yuya winced, but Reiji exclaimed he could not simply seal away the power of G.O.D. without studying it first. Yuya tried to prove that too much power would lead to doom, but Reiji replied that was just the mindset of the weak, just like Yusho Sakaki was when he fled into Dueltainment, instead of research. Reiji told that this was the power he inherited from his father, and told Yuya he could attempt to defeat him. Yuya was fired up, noting that Reiji tried to crush him in spirit, through Dueltainment. As a new Action Card appeared, Reiji turned his scarf into wings to reach it. This time, Yuya fired himself out of a cannon and grabbed the Action Card by a mouth, but crashed into a tree, and Reiji called him an idiot for that.[6]
After thinking about his father and his brothers, Yuya recovered, and summoned "EnterMate Turntrooper". "G.O.D-Eyes Phantom Dragon" attacked Reiji's "Divine Go-D/D/D Zero King Zero God Reiji", whose effect made the dragon's ATK zero. However, "EnterMate Turntrooper" gained a counter, and negated the dragon's attack, causing the latter to move the turn to Yuya's next Battle Phase. The dragon attacked Reiji's monster once more, but Reiji exclaimed it made no sense, since his G.O.D. monster would cancel his attack. Yuya smirked, for his intention was not to defeat it; "EnterMate Turntrooper" had two counters and banished all monsters on the field. Reiji, for the first time, smiled, for Yuya got his attention.[6] Yuya changed his tactics, as he played "Pendulum Match", so his Pendulum Monsters would clash with Reiji's. Reiji wasn't impressed much, but decided to play "Yuya's games". As Yuya summoned "Clearwing Fast Dragon", Reiji played "D/D/D Supersight King Zero Maxwell". Though Yuya succeeded in weakening the latter, its effect protected Reiji's LP.[7]
Reiji took his turn, and declared fate was on his side when an Action Card appeared just behind him. Yuya played "Pendulum Match" to summon "Starving Venemy Dragon", but suffered heavy casualties of Reiji's "D/D/D Destiny King Zero Laplace", whose ATK became double that of his dragon. As Reiji had a lot of Action Cards, Yuya dived below, but succeeded in tricking Reiji in order to get that Action Card. Reiji, for a moment, smiled, which excited Yuya that his Dueltainer tactics were working. Yuya played "Pendulum Match" to bring out "Dark Anthelion Dragon", and Reiji suspected another incoming trick.[7] Much to Yuya's surprise, Reiji summoned his "D/D/D/D Super-Dimensional Sovereign Emperor Zero Paradox". Yuya panicked, since he didn't encounter that monster in the previous Duel with Reiji, whose monster destroyed all cards on the field. Reiji frowned, claiming Yuya had no tricks left, who was disappointed that Reiji's smile faded. Regardless, he used "The Show Must Go On" Action Card and took two of Reiji's Action Cards. Yuya claimed he'd entertain Reiji, who called Yuya a thief.[43]
Yuya used "Big Dominoes" to inflict 500 LP damage to Reiji for each card in their hands. Yuya pushed the card dominoes to Reiji, who called that pointless as he played "Reverse Dominoes" to redirect the damage to Yuya. Yuya, however, using "Swingmelons", returned double the damage to Reiji, so he'd lose the Duel in an instant. Reiji used "Stop" Action Card to nullify that damage. Yuya anticipated that, and with so many Action Cards activated, he used "Splash Seeds" to inflict 2500 LP damage to Reiji, who had no cards to prevent that damage. Reiji became furious, standing at 1500 LP, and with his scarf damaged. Reiji exclaimed the farce would be over, as he drew a card. Yuya had his Poppo obtain an Action Card, and Reiji remained in his place, since he could not use his scarf anymore. Still, their GOD cards returned to the field, and Reiji aimed to attack with his "Divine Go-D/D/D Zero King Zero God Reiji" to make Yuya's LP zero. To prevent the latter from using its effects, Yuya used "Trick Explanation" so Reiji's monster could not activate its effects. Still, Reiji's "D/D Destiny Surveyor" was equipped to his GOD monster, so he'd sustain no damage from battles.[43]
As "Divine Go-D/D/D Zero King Zero God Reiji" attacked "G.O.D.-Eyes Phantom Dragon", Yuya sent "Trick Explanation" to his GY to destroy "D/D Destiny Surveyor". Reiji was at brink of his defeat, but he banished "D/D Destiny Surveyor" to negate the damage, destroy Yuya's GOD monster and inflict damage to Yuya equal to half the ATK of the latter, 1500. In a moment of despair, Yuya attempted to take a DRAW with "Double Burst", so Reiji would sustain that much damage. Finally, Reiji sent "D/D Zero Surveyor" to reduce the damage, so both he and Yuya had 100 LP left.[43] Since Reiji's turn ended, Yuya bet his draw on a monster to defeat Reiji. Much to his surprise, he drew "Odd-Eyes Phantom Dragon", but since he didn't have a set Pendulum Scale, he could not summon it. In fact, the two saw an Action Card far out on a field. Since Reiji's scarf had been ruined by "Swingmelon", and Yuya had no more tricks up his sleeves, the two glared each other before running. The two boys bragged that they never lost a race, though Reiji paced up his speed. Yuya claimed Reiji was enjoying this and was happy about it, but Reiji denied that. Yuya reminded that they were one of a kind, since they came from the future. Reiji slightly slowed down, as he realized that he, Yuya and their families were connected together, through an arc of destiny.[44]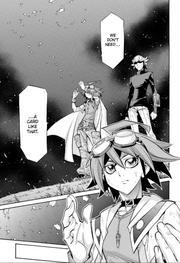 The two guys jumped, and Yuya was able to reach the Action Card. Reiji gasped, as Yuya played the Action Card, "Mini Bomb", which inflicted 100 LP damage to Reiji, causing his LP to drop to zero. Reiji fell down, as did Yuya, who started laughing. The former looked upon "Genesis Omega Dragon", and realized it was some time since he enjoyed such silly stuff like running. Yuya reached for G.O.D. card, and Reiji permitted him to do whatever he wanted, as they agreed. Yuya reminded that card played with everyone's lives, and shredded it into pieces, scattering it into the wind. With their Duel concluded, the Adam Factor caused the tree that they formed to dissolve, while a gate appeared, which Reiji believed to hold G.O.D.'s creators on the other side. Yuya admitted that he could not teach at Yuzu's Duel School, after all. Yuzu asked where'd he go, and was reminded he was from the future. Yuzu wanted to go along with him, to know him better, but Yuya feared for her life. Yuzu clasped her hands, and as she wanted to admit her love towards Yuya, the latter cut the talk. He believed they would meet each other again, and tossed her his ace card: "Odd-Eyes Phantom Dragon", stating their arc was still connected. This caused Yuzu to fall down unconscious. As Yuya braced himself for the world past the gate, Reiji, Isaac and Ren decided to accompany him, since they wanted to know who created G.O.D. that caused trouble in their lives. The quartet decided to join forces and battle against the makers of "Genesis Omega Dragon", and as they went through the gate, Yuya said his catchphase: "Ladies and gentlemen! The fun starts now!"[44]
One Shot (Non-canon)
Yuya is shown facing Reiji Akaba in an Action Duel in the special manga chapter. He is 14 years old and aims to be a Pro Duelist. Yuya uses the same strategies as his anime counterpart, using his "Entermate" monsters to explore the field, like riding on "Entermate Silver Claw", for example. He is also able to perform Pendulum Summons in the manga, although how he got his Pendulum Monsters is not explained. Yuya keeps his anime counterpart's opinion regarding Action Duels: he believes that Duels are entertainment, and should be "happy, fun and silly".[45]
Relationships
| | |
| --- | --- |
| | This section may require cleanup to meet this wiki's standards. |
Yusho Sakaki
Yusho is Yuya's father. Yuya loves and admires his father immensely, taking the mission that father ensured himself seriously. Yuya even defended Yusho when Reiji expressed his distain towards the man.
Yuzu Hiragi
Yuzu is the first person Yuya met since arriving to her timeline who was not with Leo Corp and became one of Yuya's closest friends despite tricking him into signing a teaching contract at her father's school. But after terms of payment as Yuya's manager, Yuzu offered to help him in his search for the G.O.D. card before learning as much of the significance as Yuya remembered. Yuzu is overall supportive of Yuya and his counterparts, having originally assumed "Yuto" as some sort of comedy act.
Yuto
Yuya and Yuto's differing personalities and stark experiences, combined with their similar ideals, make them each other's foils. Their history prior to sharing a body is unknown at the time save the two knew each other. At times, acting like the big brother to his counterparts, Yuto would tend to scold Yuya whenever he does something that puts them at risk like cheering up a kid while they are being hunted down by Leo Corp agents.
Yugo
Prior to sharing a body, Yuya and Yugo were good friends with the former supporting him during his turbo duels. Following that events that have him currently inside Yuya's mind, Yugo reluctantly acts to suppress Yuya's memory alongside their counterparts to spare him from what they know. During such an influx of memories he manages to deal with, Yugo expressed that he could not forgive a certain person who appears to be the reason he and the others sealed Yuya's memories of them as separate beings. It is also because of their close ties that, which the two abruptly switched places in their duel against Ren, Yuya was able to predict Yugo's strategy and execute it in his place.
Yuri
Yuya and Yuri are complete opposites of one another: while Yuya sees the good in others and duels for fun, Yuri sees only the worst and duels in a sadistic manner. Yuri even forcefully took over Yuya's body during their duel with Sora, scolding Yuya for his gullibility while torturing Sora to expose him for the deceptive sadist he is. Their history prior to sharing a body is unknown at the time save that Yuri genuinely cares for Yuya to the point that he will show no mercy to anyone who harms Yuya in any way.
Reiji Akaba
Learning they are from the future, having expected to face him sooner or later, Yuya learned how their home was destroyed by Genesis Omega Dragon from Reiji's perspective as he blamed Yusho for it. Yuya made attempts to convince Reiji that his father is not to blame during their first duel, but Reiji refused to listen as both of them are revealed to possess the Adam Factor which is sought by the mysterious Eve.
Shingo Sawatari
Yuya first met Shingo during Yuto's duel against the pursuing Leo Corp duelist, taking over for his counterpart to finish the duel. Following Yuya defeating him, Shingo considered him a rival.
Shun Kurosaki
Yuya first met Shun when he kidnapped Yuzu's father to forced the youth to duel him, Shun considering Yuya's dueling style an insult due to his background as a duelist combatant. During the duel, Yuya admired Shun's code of honor when he paused their duel to save Yuzu and her father from certain death. Yuya returned the favor when Shun almost fell to his death, with Shun coming to respect Yuya as a duelist and sees him as a worthy rival.
Sora Shiunin
Sora has shown great interest towards Yuya, deciding to duel him on Reiji's suggestion for the answers he seeks concerning Reiji's own agenda. When their duel began, having increased the pain receivers in their arena, Sora attempted to catch Yuya off guard by claiming he is being forced to duel because Reiji holds his sister Miu hostage. But Yuri takes over Yuya's body and shows him that Sora is nothing but a lying sadist, with Yuya allowed to finish the duel and beat Sora in a way that does not force him to sink to the child's moral level.
Decks
Canon
Like his anime counterpart, Yuya runs an "Enter-Mate/Odd-Eyes" Deck revolved around Pendulum Summoning.[Notes 1]
Unlike similar characters (e.g. Yugi Muto, Yuma Tsukumo), Yuya uses a completely different Deck from his partner(s). If any of his counterparts takes over Yuya's body during a Duel, the contents of their Deck will change along with their persona.
Furthermore, at the same rate as Yuya influences his counterparts' Decks (such as evolving Yugo's "Clearwing Fast Dragon" into a Pendulum Monster), Yuya's Deck appears to be influenced by his counterparts as well, with Yuya using "Mirage", "Persona" and "Phantom" monsters when Dueling alongside Yuto,[12] or using "Rose" and "Handsome" monsters when Dueling alongside Yuri.[17] When his brothers disappeared, Yuya integrated their cards into his Deck to summon their draconic aces.
He also uses Poppo and Booster Unit cards that influence his chances to obtain Action Cards, but have no impact on the Duel itself.
One Shot
In the special manga chapter, Yuya runs an "Entermate" Deck, like in the anime.
Image
Information

Entermate Thunderhino (EMジンライノ Entameito Jinraino)

Level

3 ★★★

ATK

0

0

0

0

0

200

DEF

0

0

0

0

1800

Entermate Warrior Tiger (EMヘイタイガー Entameito Heitaigā)

Level

4 ★★★★

ATK

0

0

0

0

1700

DEF

0

0

0

0

0

500

Entermate Silver Claw (EMシルバー・クロウ Entameito Shirubā Kurou)

Level

4 ★★★★

ATK

0

0

0

0

1800

DEF

0

0

0

0

0

700

Odd-Eyes Pendulum Dragon (オッドアイズ・ペンデュラム・ドラゴン Oddoaizu Pendyuramu Doragon)

Level

7 ★★★★★★★

ATK

0

0

0

0

2500

DEF

0

0

0

0

2000

Stargazer Magician (星読みの魔術師 Hoshiyomi no Majutsushi)

Level

5 ★★★★★

ATK

0

0

0

0

1200

DEF

0

0

0

0

2400

Timegazer Magician | Time Reading Magician (時読みの魔術師 Tokiyomi no Majutsushi)

Level

3 ★★★

ATK

0

0

0

0

1200

DEF

0

0

0

0

0

600

Axe of Fools (愚鈍の斧 Gudon no Ono)

Card type

Spell Card

Widespread Ruin | Omnipotent Landmine Glaymore (万能地雷グレイモヤ Bannōjirai Gureimoya)

Card type

Trap Card
Duels
Notes
References
Yuya and his personalities
Reiji's group
Eve's group
Other characters
*Disclosure: Some of the links above are affiliate links, meaning, at no additional cost to you, Fandom will earn a commission if you click through and make a purchase. Community content is available under
CC-BY-SA
unless otherwise noted.