Welcome to the Yu-Gi-Oh! Wikia!
The Yu-Gi-Oh! Wikia is a free repository on all aspects of the Yu-Gi-Oh! franchise that anyone can edit. We've been around since May 26, 2005 — and in that time we've assembled a lot of information about the cards and other aspects of the Yu-Gi-Oh! phenomenon. Visit the news section for dates of upcoming Yu-Gi-Oh! TCG & OCG product releases, as well as anime air dates and manga book release dates.
While the Yu-Gi-Oh! Wikia hosts information, the sources of information are from various place: Including Official OCG Twitter, Yu-Gi-Oh! Japanese Card Database, Official TCG Twitter, and Ygorganization. These information are translated into English before published to the Yu-Gi-Oh! Wikia.
Characters
There are a lot of characters in this long-running franchise. Here are some of the characters from the new show, Yu-Gi-Oh! VRAINS.
Trivia
"Gogiga Gagagigo", "Inpachi", "Invader of Darkness", "Marauding Captain" and "Freed the Brave Wanderer" appear in the artwork of "Memory of an Adversary".
The "Blue-Eyes White Dragon" card is Seto Kaiba's signature card. It shares its 3000 ATK with the rivals of other series, which are Chazz's "Armed Dragon LV10", Jack's "Red Dragon Archfiend", Kite's "Galaxy-Eyes Photon Dragon" and Declan's "D/D/D Cruel End King Armageddon".
"Ojama King", "Elemental HERO Air Neos", "Steam Gyroid", "Blue-Eyes White Dragon", "Dark Magician", "Gearfried the Iron Knight", "Skyscraper 2 - Hero City" and "Skyscraper" appear in the artwork of "Dimension Explosion".
Stats
Wanna know more about the kinds of information you can find here? Here's a breakdown of the 26,331 cards we're cataloguing, stat fans:

---
Card information
Set information
News
TCG

April 18 

April 19 

April 27 

May 2 

May 31 

June 14 

July 12 

July 26 

September 3 

September 27 

OCG

April 13 

April 13 

April 20 

April 25 

April 27 

May 11 

May 11 

May 11 

May 18 

May 21 

June 8 

June 22 

July 13 

Anime

English air dates
Japanese air dates

Manga

English chapter dates
Japanese chapter dates
Latest set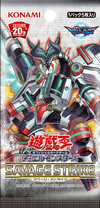 Savage Strike is a Booster Pack in the Yu-Gi-Oh! Official Card Game (OCG) and Yu-Gi-Oh! Trading Card Game (TCG). It is the seventh set in the OCG's 10th series.
This set includes members and/or support for the "Borrel", "Cyber", "Elemental HERO", "HERO", "Impcantation", "Knightmare", "Madolche", "Neo-Spacian", "Neos", "Orcust", "Prank-Kids", "Rokket", "Salamangreat", "Shiranui", "Subterror", "T.G.", "Trickstar", and "World Legacy" archetypes, as well as the Guardragon series.
The TCG version includes members/support for the "Valkyrie", "Danger!", "Kaiju", "Performapal" and "Six Samurai" archetypes, as well as the ""C"" series and introduces the "Time Thief" archetype.
---
... further results
Latest episode
Episode 98: The AI Crosses the Line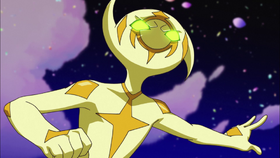 Lightning uses Jin as a hostage to rattle Varis. However, Bohman, who is very disappointed in Lightning's actions, decides to step in. Now that his hostage-taking tactic has failed, Lightning reveals a shocking truth about Dr. Kogami to Varis, who is already heavily wounded. And then, their fierce Duel finally reaches its conclusion...!!
... further results
Latest chapter
Chapter 45: Arc of Destiny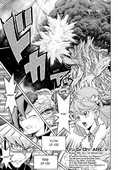 As their last act, Yuya and Reiji sprint to obtain the final Action Card that will determine everyone's arc of destiny.
... further results
Related wikis
Set galleries