Welcome to the Yu-Gi-Oh! Wikia!
The Yu-Gi-Oh! Wikia is a free repository on all aspects of the Yu-Gi-Oh! franchise that anyone can edit. We've been around since May 26, 2005 — and in that time we've assembled a lot of information about the cards and other aspects of the Yu-Gi-Oh! phenomenon. Visit the news section for dates of upcoming Yu-Gi-Oh! TCG & OCG product releases, as well as anime air dates and manga book release dates.
While the Yu-Gi-Oh! Wikia hosts information, the sources of information are from various place: Including Official OCG Twitter, Yu-Gi-Oh! Japanese Card Database, Official TCG Twitter, and Ygorganization. These information are translated into English before published to the Yu-Gi-Oh! Wikia.
Characters
There are a lot of characters in this long-running franchise. Here are some of the characters from the new show, Yu-Gi-Oh! VRAINS.
Trivia
A figure looking exactly like "The Grim Reaper" from Yu-Gi-Oh! GX appears in the artwork of "Arduous Decision", a card used in Yu-Gi-Oh!.
Despite their English flavor text, the Japanese lores of "Kozaky" and "Woodborg Inpachi" do not reference "Dark World"; rather, they translate to "Demon World".
In the original manga and the few first arcs of Yu-Gi-Oh!, Fusion Monsters were not cards, but were simply two or more cards placed on top of one another that rendered a new holographic monster.
Stats
Wanna know more about the kinds of information you can find here? Here's a breakdown of the 26,199 cards we're cataloguing, stat fans:

---
Card information
Set information
News
TCG

March 5 

March 7 

March 21 

April 5 

April 19 

April 27 

May 2 

May 31 

June 14 

September 3 

OCG

March 9 

March 9 

March 20 

March 20 

March 20 

March 23 

April 13 

April 13 

April 20 

April 25 

May 11 

May 18 

June 8 

Anime

English air dates
Japanese air dates

Manga

English chapter dates
Japanese chapter dates
Latest set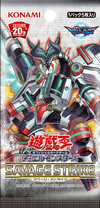 Savage Strike is a Booster Pack in the Yu-Gi-Oh! Official Card Game (OCG) and Yu-Gi-Oh! Trading Card Game (TCG). It is the seventh set in the OCG's 10th series.
This set includes members and/or support for the "Borrel", "Cyber", "Elemental HERO", "HERO", "Impcantation", "Knightmare", "Madolche", "Neo-Spacian", "Neos", "Orcust", "Prank-Kids", "Rokket", "Salamangreat", "Shiranui", "Subterror", "T.G.", "Trickstar", and "World Legacy" archetypes, as well as the Guardragon series.
The TCG version includes members/support for the "Valkyrie", "Danger!", "Kaiju", "Performapal" and "Six Samurai" archetypes, as well as the ""C"" series and introduces the "Time Thief" archetype.
---
... further results
Latest episode
Episode 93: Promise With Each Other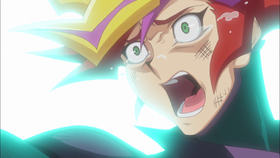 Knowing the ins and outs of Playmaker's deck, Cal launches a relentless assault against him and does all he can to protect Jin. On the other hand, Playmaker just can't attack, and gets driven into a corner. Playmaker's Life Points are now dangerously low. Cal then starts talking about the promise the two of them made in the past.
... further results
Latest chapter
Chapter 43: Head-to-Head Cards!!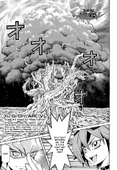 Yuya aims to bring a smile to Reiji's face. Remembering his father's words, he makes surprising spins to amuse the audience as a Dueltainer.
... further results
Related wikis
Set galleries