Welcome to the Yu-Gi-Oh! Wiki!
The Yu-Gi-Oh! Wiki is a free repository on all aspects of the Yu-Gi-Oh! franchise that anyone can edit. We've been around since May 26, 2005 — and in that time we've assembled a lot of information about the cards and other aspects of the Yu-Gi-Oh! phenomenon. Visit the news section for dates of upcoming Yu-Gi-Oh! TCG & OCG product releases, as well as anime air dates and manga book release dates.
While the Yu-Gi-Oh! Wiki hosts information, the sources of information are from various places: Including Official OCG Twitter, Yu-Gi-Oh! Japanese Card Database, Official TCG Twitter, and Ygorganization. These information are translated into English before published to the Yu-Gi-Oh! Wiki.
Yu-Gi-Oh! media
Characters
There are a lot of characters in this long-running franchise. Here are some of the characters from the new show, Yu-Gi-Oh! SEVENS.
Trivia
Stats
Wanna know more about the kinds of information you can find here? Here's a breakdown of the 28,523 cards we're cataloguing, stat fans:

---
Card information
Set information
News
TCG

February 17 

February 18 

April 15 

May 4 

June 3 

June 10 

June 10 

OCG

February 13 

March 6 

March 19 

April 

April 17 

April 17 

April 24 

May 15 

May 30 

June 5 

June 12 

Anime

English air dates
Japanese air dates

Manga

English chapter dates
Japanese chapter dates
Latest set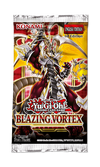 Blazing Vortex is a Booster Pack in the Yu-Gi-Oh! Official Card Game (OCG). It is the third set in the OCG's 11th series, following Phantom Rage and followed by Lightning Overdrive.
The set includes new members/support for the "Armed Dragon","LV", "Fabled", "Dream Mirror", "Metalfoes", "Eldlich", "Golden Land", "Dogmatika", "Tri-Brigade", "Constellar", "Ojama", "Dual Avatar", "Live☆Twin", "Ki-sikil", "Lil-la", "Evil★Twin", "Ancient Warriors", "Dragunity", "Machina", "Archfiend", "Virtual World", "Virtual World Gate", "Windwitch", "Springans" and "S-Force" archetypes, as well as The Fabled, Digital Bug, Greed, Paladins of Dragons and Wight series.
The TCG version includes new members/support for the "War Rock" and "Materiactor" archetypes.
---
... further results
Latest episode
Episode 37: Coo-Cluke-Coo
... further results
Latest chapter
Chapter 20: ?
[[File:|link=Yu-Gi-Oh! OCG Structures - Chapter 020|x170px|center]]
... further results
Related wikis
Set galleries
*Disclosure: Some of the links above are affiliate links, meaning, at no additional cost to you, Fandom will earn a commission if you click through and make a purchase. Community content is available under
CC-BY-SA
unless otherwise noted.