Welcome to the Yu-Gi-Oh! Wiki!
The Yu-Gi-Oh! Wiki is a free repository on all aspects of the Yu-Gi-Oh! franchise that anyone can edit. We've been around since May 26, 2005 — and in that time we've assembled a lot of information about the cards and other aspects of the Yu-Gi-Oh! phenomenon. Visit the news section for dates of upcoming Yu-Gi-Oh! TCG & OCG product releases, as well as anime air dates and manga book release dates.
While the Yu-Gi-Oh! Wiki hosts information, the sources of information are from various place: Including Official OCG Twitter, Yu-Gi-Oh! Japanese Card Database, Official TCG Twitter, and Ygorganization. These information are translated into English before published to the Yu-Gi-Oh! Wiki.
Yu-Gi-Oh! media
Characters
There are a lot of characters in this long-running franchise. Here are some of the characters from the new show, Yu-Gi-Oh! SEVENS.
Trivia
A figure looking exactly like "The Grim Reaper" from Yu-Gi-Oh! GX appears in the artwork of "Arduous Decision", a card used in Yu-Gi-Oh!.
Despite their English flavor text, the Japanese lores of "Kozaky" and "Woodborg Inpachi" do not reference "Dark World"; rather, they translate to "Demon World".
In the original manga and the few first arcs of Yu-Gi-Oh!, Fusion Monsters were not cards, but were simply two or more cards placed on top of one another that rendered a new holographic monster.
Stats
Wanna know more about the kinds of information you can find here? Here's a breakdown of the 28,179 cards we're cataloguing, stat fans:

---
Card information
Set information
News
TCG

October 22 

October 31 

November 5 

November 12 

December 4 

December 11 

January 21, 2021 

February 4, 2021 

February 19, 2021 

OCG

October 21 

October 28 

October 31 

October 31 

November 14 

November 21 

November 21 

December 5 

December 12 

December 19 

January 16, 2021 

January 16, 2021 

April, 2021 

Anime

English air dates
Japanese air dates

Manga

English chapter dates
Japanese chapter dates
Latest set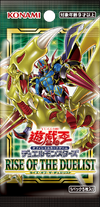 Rise of the Duelist is a Booster Pack in the Yu-Gi-Oh! Official Card Game (OCG) and Yu-Gi-Oh! Trading Card Game (TCG). It is the first set in the OCG's 11th series and also the first series of core sets not co-linked to any Yu-Gi-Oh! spin-off series.
The set includes new members/support for the "Gaia The Fierce Knight", "Melffy" and "Dogmatika", "Nemeses", "Ancient Warriors", "Megalith", "Machina", "Mathmech", "Tenyi", "Dragonmaid", "Noble Knight", "Noble Arms", "Forbidden", "Charmer" "Darklord", "Fluffal", "Edge Imp", "Frightfur", "Polymerization", "Fusion", "Rikka", "Chaos", "Koa'ki Meiru", "Junk", "Adamancipator" and "Shaddoll", "Roland" and "Potan" archetypes as well as "Gaia Knight", "Deep Sea" , "Gizmek" and "Umi" series.
The TCG version includes support for the "D/D", "Speedroid", "Odd-Eyes", "Raidraptor", "Abyss Actor", "Superheavy Samurai", and "Performapal" archetypes.
---
... further results
Latest episode
Episode 21: Close Encounters of the Noodle Kind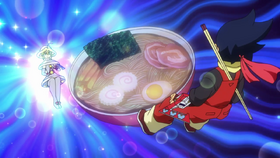 Looking for the "Haven" where Nail is, Yuga & co. wander underground. Exhausted and hungry, they all smell a pleasant scent at the same time... before them they find a very flashy ramen shop crowded with Goha employees, "Space House". Serving an extremely delicious ramen is an alien called "Sorako"!? Where ramen is involved, Menzaburo appears! It's a Ramen Duel again!
... further results
Latest chapter
Chapter 16: ?
[[File:|link=Yu-Gi-Oh! OCG Structures - Chapter 016|x170px|center]]
... further results
Related wikis
Set galleries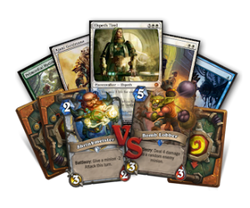 *Disclosure: Some of the links above are affiliate links, meaning, at no additional cost to you, Fandom will earn a commission if you click through and make a purchase. Community content is available under
CC-BY-SA
unless otherwise noted.