Welcome to the Yu-Gi-Oh! Wiki!
The Yu-Gi-Oh! Wiki is a free repository on all aspects of the Yu-Gi-Oh! franchise that anyone can edit. We've been around since May 26, 2005 — and in that time we've assembled a lot of information about the cards and other aspects of the Yu-Gi-Oh! phenomenon. Visit the news section for dates of upcoming Yu-Gi-Oh! TCG & OCG product releases, as well as anime air dates and manga book release dates.
While the Yu-Gi-Oh! Wiki hosts information, the sources of information are from various places: Including Official OCG Twitter, Yu-Gi-Oh! Japanese Card Database, Official TCG Twitter, and Ygorganization. These information are translated into English before published to the Yu-Gi-Oh! Wiki.
Yu-Gi-Oh! media
Characters
There are a lot of characters in this long-running franchise. Here are some of the characters from the new show, Yu-Gi-Oh! SEVENS.
Trivia
Stats
Wanna know more about the kinds of information you can find here? Here's a breakdown of the 29,684 cards we're cataloguing, stat fans:

---
Card information
Set information
News
TCG

January 19 

January 28 

February 5 

February 10 

February 22 

February 25 

March 18 

April 8 

April 21 

May 6 

May 20 

June 23 

OCG

January 15 

January 15 

January 22 

January 29 

February 19 

March 19 

April 

April 23 

April 23 

Anime

English air dates
Japanese air dates

Manga

English chapter dates
Japanese chapter dates
Latest set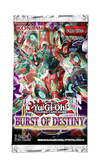 Burst of Destiny is a Booster Pack in the Yu-Gi-Oh! Official Card Game (OCG). It is the sixth set in the OCG's 11th series, following Dawn of Majesty and followed by Battle of Chaos.
The set includes new members/support for the "Ki-sikil", "Lil-la", "Evil★Twin","Magistus", "Machina", "Destiny HERO", "HERO", "Rokket", "Sunvine", "Reptilianne", "Sunavalon", "Starry Knight", "Magikey", "Gunkan", "Borrel", "Despia", "Branded", "Ursarctic", "Drytron", "Ninja", "Penguin", "Floowandereeze", "Icejade", "Topologic", "Swordsoul", and "Sunseed", and "Rokket" archetypes, as well as Cupid and Dog Marron series.
The TCG version includes new members/support for the "Danger!" and "Beetrooper" archetypes and the Cynet and D.D. series.
---
... further results
Latest episode
Episode 82: Daor of the Rush
Gavin has lost all his memories about Rush Duels and the days he spent with his friends. In order to help him regain his memories, Yuga and co. try to recreate the day Rush Duels were born. And thus, Daor of the Rush, the first movie directed by Lucidien Kallister (Luke), will now premiere!
... further results
Latest chapter
Chapter 20: ?
[[File:|link=Yu-Gi-Oh! OCG Structures - Chapter 020|x170px|center]]
... further results
Related wikis
Set galleries
Upcoming Anime Highlights