Welcome to the Yu-Gi-Oh! Wiki!
The Yu-Gi-Oh! Wiki is a free repository on all aspects of the Yu-Gi-Oh! franchise that anyone can edit. We've been around since May 26, 2005 — and in that time we've assembled a lot of information about the cards and other aspects of the Yu-Gi-Oh! phenomenon. Visit the news section for dates of upcoming Yu-Gi-Oh! TCG & OCG product releases, as well as anime air dates and manga book release dates.
While the Yu-Gi-Oh! Wiki hosts information, the sources of information are from various place: Including Official OCG Twitter, Yu-Gi-Oh! Japanese Card Database, Official TCG Twitter, and Ygorganization. These information are translated into English before published to the Yu-Gi-Oh! Wiki.
Yu-Gi-Oh! media
Characters
There are a lot of characters in this long-running franchise. Here are some of the characters from the new show, Yu-Gi-Oh! SEVENS.
Trivia
Stats
Wanna know more about the kinds of information you can find here? Here's a breakdown of the 27,944 cards we're cataloguing, stat fans:

---
Card information
Set information
News
TCG

September 10 

September 15 

September 25 

October 23 

October 31 

November 6 

November 13 

November 20 

December 4 

OCG

September 4 

September 12 

September 19 

September 21 

September 21 

October 3 

October 21 

October 28 

October 31 

October 31 

November 14 

December 19 

January 16, 2021 

January 16, 2021 

Anime

English air dates
Japanese air dates

Manga

English chapter dates
Japanese chapter dates
Latest set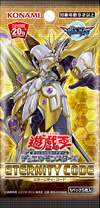 Eternity Code is a Booster Pack in the Yu-Gi-Oh! Official Card Game (OCG) and Yu-Gi-Oh! Trading Card Game (TCG). It is the twelfth and final set in the OCG's 10th series.
The set includes members/support for the "Ancient Warriors", "Code Talker", "@Ignister", "Charmer", "Familiar-Possessed", "Traptrix", "Dragonmaid", "Invoked", "Generaider", "Resonator", "Gouki", "Marincess", "Tindangle", "Salamangreat", "Unchained", "Evolution Pill", "Void", "Infernoid", "Hole", "Polymerization", "Madolche", "Evil Eye", "Megalith", "Witchcrafter", "Mekk-Knight", "Orcust", "Thunder Dragon", "Codebreaker", "Nemeses", and "Barbaros", and "A.I." archetypes, as well as "Link", "Yo-kai Girl", "Gizmek", "Cataclysmic" and "Deep Sea" series.
---
... further results
Latest episode
Episode 15: Setting Sail! Goha Fishing Elementary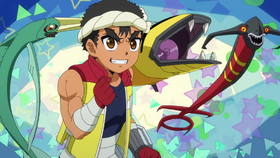 According to Kaizo, the "relic" has showed up again! Following its instructions, Yuga and co. boarded the ship that also acts as a school building for Goha Fishing Elementary. As it turns out, the ship will be at sea for a month or so. Due to a misunderstanding revolving around Kaizo, Yuga also ended up entering a Duel in the middle of the sea against the ship's captain and Fisherman Duelist, Nanami Maguro!
... further results
Latest chapter
Chapter 15: ?
[[File:|link=Yu-Gi-Oh! OCG Structures - Chapter 015|x170px|center]]
... further results
Related wikis
Set galleries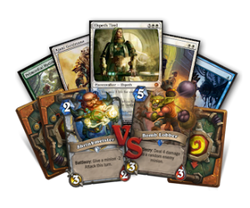 *Disclosure: Some of the links above are affiliate links, meaning, at no additional cost to you, Fandom will earn a commission if you click through and make a purchase. Community content is available under
CC-BY-SA
unless otherwise noted.