Welcome to the Yu-Gi-Oh! Wiki!
The Yu-Gi-Oh! Wiki is a free repository on all aspects of the Yu-Gi-Oh! franchise that anyone can edit. We've been around since May 26, 2005 — and in that time we've assembled a lot of information about the cards and other aspects of the Yu-Gi-Oh! phenomenon. Visit the news section for dates of upcoming Yu-Gi-Oh! TCG & OCG product releases, as well as anime air dates and manga book release dates.
While the Yu-Gi-Oh! Wiki hosts information, the sources of information are from various place: Including Official OCG Twitter, Yu-Gi-Oh! Japanese Card Database, Official TCG Twitter, and Ygorganization. These information are translated into English before published to the Yu-Gi-Oh! Wiki.
Yu-Gi-Oh! media
Characters
There are a lot of characters in this long-running franchise. Here are some of the characters from the new show, Yu-Gi-Oh! SEVENS.
Trivia
Stats
Wanna know more about the kinds of information you can find here? Here's a breakdown of the 27,688 cards we're cataloguing, stat fans:

---
Card information
Set information
News
TCG

June 18 

July 2 

July 9 

July 24 

August 7 

August 27 

September 11 

October 9 

November 6 

November 20 

OCG

June 20 

June 20 

July 1 

July 1 

July 4 

July 4 

August 

August 1 

August 

August 8 

August 8 

August 29 

August 29 

September 12 

September 19 

September 21 

October 3 

October 28 

Anime

English air dates
Japanese air dates

Manga

English chapter dates
Japanese chapter dates
Latest set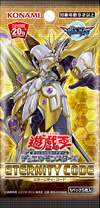 Eternity Code is a Booster Pack in the Yu-Gi-Oh! Official Card Game (OCG) and Yu-Gi-Oh! Trading Card Game (TCG). It is the twelfth and final set in the OCG's 10th series.
The set includes members/support for the "Ancient Warriors", "Code Talker", "@Ignister", "Charmer", "Familiar-Possessed", "Traptrix", "Dragonmaid", "Invoked", "Generaider", "Resonator", "Gouki", "Marincess", "Tindangle", "Salamangreat", "Unchained", "Evolution Pill", "Void", "Infernoid", "Hole", "Polymerization", "Madolche", "Evil Eye", "Megalith", "Witchcrafter", "Mekk-Knight", "Orcust", "Thunder Dragon", "Codebreaker", "Nemeses", and "Barbaros", and "A.I." archetypes, as well as "Link", "Yo-kai Girl", "Gizmek", "Cataclysmic" and "Deep Sea" series.
---
... further results
Latest episode
Episode 8: Post-Apocalypse and Neapolitan Spaghetti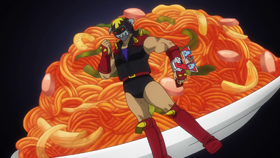 It was a very hot day. Yuga and his friends went to a vending machine to buy some drinks, but standing in their way is a giant person. His name is Yoshio, and he calls himself "the Post-Apocalyptic Duel King". Yoshio has a grudge against Rook, so he challenges him to a Rush Duel! And the source of Yoshio's monstrous strength is Neapolitan Spaghetti?! How will Rook fight against him?!
... further results
Latest chapter
Chapter 9: Ageha's True Skills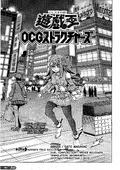 Ageha Yusa heads out to Adult's Night at the Satellite Shop, and runs into a familiar face while she's there.
... further results
Related wikis
Set galleries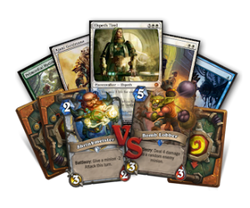 *Disclosure: Some of the links above are affiliate links, meaning, at no additional cost to you, Fandom will earn a commission if you click through and make a purchase. Community content is available under
CC-BY-SA
unless otherwise noted.