Welcome to the Yu-Gi-Oh! Wiki!
The Yu-Gi-Oh! Wiki is a free repository on all aspects of the Yu-Gi-Oh! franchise that anyone can edit. We've been around since May 26, 2005 — and in that time we've assembled a lot of information about the cards and other aspects of the Yu-Gi-Oh! phenomenon. Visit the news section for dates of upcoming Yu-Gi-Oh! TCG & OCG product releases, as well as anime air dates and manga book release dates.
While the Yu-Gi-Oh! Wiki hosts information, the sources of information are from various place: Including Official OCG Twitter, Yu-Gi-Oh! Japanese Card Database, Official TCG Twitter, and Ygorganization. These information are translated into English before published to the Yu-Gi-Oh! Wiki.
Yu-Gi-Oh! media
Characters
There are a lot of characters in this long-running franchise. Here are some of the characters from the new show, Yu-Gi-Oh! VRAINS.
Trivia
Stats
Wanna know more about the kinds of information you can find here? Here's a breakdown of the 27,336 cards we're cataloguing, stat fans:

---
Card information
Set information
News
TCG

April 2 

April 16 

May 1 

May 14 

May 14 

June 2 

July 3 

July 10 

OCG

March 27 

April 

April 2 

April 4 

April 4 

April 4 

April 11 

April 18 

April 21 

May 16 

June 6 

July 18 

Anime

English air dates
Japanese air dates

Manga

English chapter dates
Japanese chapter dates
Latest set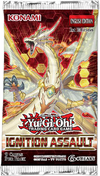 Ignition Assault is a Booster Pack in the Yu-Gi-Oh! Official Card Game (OCG) and Yu-Gi-Oh! Trading Card Game (TCG). It is the eleventh set in the OCG's 10th series.
The set Includes members/support for the "Dragonmaid", "Time Thief", "Karakuri", "Generaider","Gimmick Puppet", "Chronomaly", "Heraldry", "Heraldic Beast", "Number", "Number C", "Xyz", "CXyz", "Rank-Up-Magic", "Witchcrafter", "Unchained", "Unchained Soul", "Mayakashi", "Ghostrick", "Sky Striker", "Sky Striker Ace", "Charmer", "Megalith", "Ancient Warriors", "@Ignister", "A.I.", and "Familiar-Possessed" archetypes, as well as "Gizmek", "Cupid" and "Cataclysmic" series.
The TCG version includes support for the "Plunder Patroll", and "Archfiend" archetypes.
---
... further results
Latest episode
Episode 120: Connected World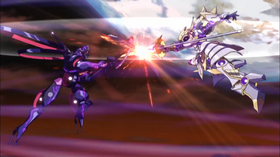 Both Playmaker and Ai have come to acknowledge each other's ideals: the importance of connections to humans, and what an AI ultimately desires, respectively. The two then use everything they have left to settle their battle once and for all. Just how will their Duel conclude?
... further results
Latest chapter
Chapter 45: Arc of Destiny!!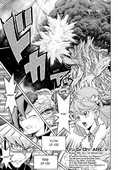 As their last act, Yuya and Reiji sprint to obtain the final Action Card that will determine everyone's arc of destiny.
... further results
Related wikis
Set galleries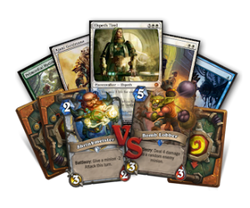 *Disclosure: Some of the links above are affiliate links, meaning, at no additional cost to you, Fandom will earn a commission if you click through and make a purchase. Community content is available under
CC-BY-SA
unless otherwise noted.