Yu-Gi-Oh! GO RUSH

Yu-Gi-Oh! GO RUSH!!遊☆戯☆王ゴーラッシュ!!Yūgiō Gōrasshu!!

Anime series: Yu-Gi-Oh! GO RUSH
Directed by

Nobuhiro Kondo

Studio

Bridge

Network

TV Tokyo

Original run

3rd April, 2022–present —
Yu-Gi-Oh! GO RUSH!! is the eighth Yu-Gi-Oh! anime series succeeding Yu-Gi-Oh! SEVENS, and the seventh main spin-off series that premiered in Japan on April 3rd, 2022.
Plot
The story takes place several decades after the events of SEVENS.
Story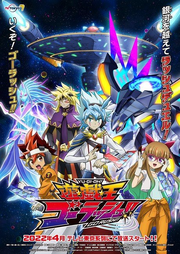 Yuhi Ohdo and Yuamu Ohdo are elementary schooler twins living in Mutsuba Town who are in charge of the alien extermination company UTS (Ultraterrestrial Trouble Solutions). They spend their days working really hard searching for aliens using a mysterious device created by Yuhi... that is, until one fateful day!!
Right after they created a mystery school club, they finally found a real spaceship and inside of it, they made contact with Yudias, an alien from the distant Velgear Star Cluster.
Yudias comes to Earth after he and his comrades were chased from his native star cluster, seeking another path to a new future, which "Rush Duel" seems like it might offer to do so, but knows nothing about it. Yuhi challenges the newbie Yudias to a Rush Duel in order to give him a helping hand. This is the first contact between elementary school students and aliens, via Rush Duel!
Now it's time to enter the new stage of Rush Duel introduced by this alien soldier from the far ends of the galaxy!
Let's go, Go Rush!!
Characters
Music
Opening Themes
Japanese Opening Theme 1: Shinkirō
Performer: Frederic
Episodes: 1~
Ending Themes
Japanese Ending Theme 1: One Way
Performer: Yūsuke Saeki
Episodes: 1~
Episodes
Blu-ray & DVD
Trivia
Like SEVENS, this series is comedic and lighthearted.
This is the first series since Yu-Gi-Oh! 5D's to be a direct sequel series.
References
Manga

Anime

Series
Films
Spin-offs

Storylines

Plot elements
Games
Others