"Bad Business", known as "You Show School's Crisis!! LDS Invasion" in the Japanese version, is the eighth episode of the Yu-Gi-Oh! ARC-V anime. It first aired in Japan on June 1, 2014 and in Canada on September 18, 2015. Nicktoons aired on April 3, 2016. It became available with official subtitles via Crunchyroll on November 15, 2016.
After Sylvio's Duel with the mysterious man who looks like Yuya ends with him taking a ton of damage from a monster made from an Xyz Summon, word of it reaches the ear of Declan, the CEO of Leo Corporation. His mother, Henrietta, who just returned to the country, also receives a report about it. Followed by the elite of the Leo Institute of Dueling, she marches to the You Show Duel School that the criminal Yuya goes to. And they plan to...
Featured Duel: Yuya Sakaki vs. Dipper O'rion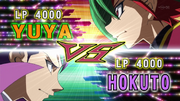 At the start of the Duel, the Field Spell Card "Cosmic Sanctuary" is activated, as per the rules of an Action Duel. It will allow the players to use Action Cards, but they may only have one in their hand at a time.
Duel continues in the next episode.
Featured cards
The following cards appeared in this episode. Cards in italics debuted here.
Differences in Adaptions
Henrietta checking her news cast on LID shows the picture rather then the news headlines.
Sylvio faking his injury and without his cast on is cut from the dub.
Tate checking Dipper's win ratio is changed in the dub to only show him looking at his Duel Disk rather than showing the information on the screen.
The opponents that Yuya Dueled offscreen uses the names of the Yu-Gi-Oh! ARC-V dubbing staff.
Mistakes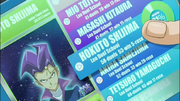 The word "lose" is mispelled in the database as "rose". This is due to the fact that most Japanese speakers find difficulty differentiating the English phonemes /l/ and /ɹ/.
In other languages
| Language | Title |
| --- | --- |
| French | Femme d'affaires |
| German | Rein Geschäftlich |
| Italian | Cattivi affari |
| Korean | 유승학원의 위기!! LDS의 습격 |
| Thai | วิกฤตของโรงเรียนยูโชว แอลดีเอสบุกแล้ว |
Cast
Community content is available under
CC-BY-SA
unless otherwise noted.