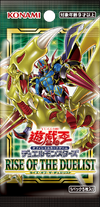 Rise of the Duelist is a Booster Pack in the Yu-Gi-Oh! Official Card Game (OCG) and Yu-Gi-Oh! Trading Card Game (TCG). It is the first set in the OCG's 11th series and also the first series of core sets not co-linked to any Yu-Gi-Oh! spin-off series.
The set includes new members/support for the "Gaia The Fierce Knight", "Melffy" and "Dogmatika", "Nemeses", "Ancient Warriors", "Megalith", "Machina", "Mathmech", "Tenyi", "Dragonmaid", "Noble Knight", "Noble Arms", "Forbidden", "Charmer" "Darklord", "Fluffal", "Edge Imp", "Frightfur", "Polymerization", "Fusion", "Rikka", "Chaos", "Koa'ki Meiru", "Junk", "Adamancipator" and "Shaddoll", "Roland" and "Potan" archetypes as well as "Gaia Knight", "Deep Sea" , "Gizmek" and "Umi" series.
The TCG version includes support for the "D/D", "Speedroid", "Odd-Eyes", "Raidraptor", "Abyss Actor", "Superheavy Samurai", and "Performapal" archetypes.
*Disclosure: Some of the links above are affiliate links, meaning, at no additional cost to you, Fandom will earn a commission if you click through and make a purchase. Community content is available under
CC-BY-SA
unless otherwise noted.