Yosuke Adachi is a character appearing in the Yu-Gi-Oh! 5D's Tag Force games, renamed Yosuke Terashi after Tag Force 4.
In the English version, his name is changed to Taku, who is a character from the previous Tag Force games, known as Takuya Hashimoto in the Japanese version.
Appearances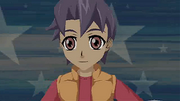 Tag Force 4
In the third event of Misty Tredwell's story, Taku and Jack Atlas duel against the Player and Misty.
In his own story, he competes with the Player against Carly Carmine and Luna in the Preliminaries, Misty Tredwell and Leo in the quarter finals, Crow Hogan and Akiza Izinski in the semi-finals and Jack Atlas and Yusei Fudo in the finals. For completing the story, the Player will receive a photo of himself, Taku and Bawnji called "Tops Boy".
Tag Force 5
In Luna's first story event, Taku and Leo Tag Duel against the player and Luna.
Gifts
The player is able to give Taku gifts. The following tables detail how much he likes or dislikes the gifts.
Tag Force 4
| | Strongly likes | Likes | Neutral | Dislikes | Strongly dislikes |
| --- | --- | --- | --- | --- | --- |
| Household | | | | | |
| Figures | | | | | |
| Card accessories | | | | | |
| Foods & Beverages | | | | | |
| Misc | | | | | |
Tag Force 5
| | Strongly likes | Likes | Neutral | Dislikes | Strongly dislikes |
| --- | --- | --- | --- | --- | --- |
| Household | | | | | |
| Figures | | | | | |
| Card accessories | | | | | |
| Foods & Beverages | | | | | |
| Misc | | | | | |
Tag Force 6
| | Strongly likes | Likes | Neutral | Dislikes | Strongly dislikes |
| --- | --- | --- | --- | --- | --- |
| Household | | | | | |
| Figures | | | | | |
| Card accessories | | | | | |
| Foods & Beverages | | | | | |
| Misc | | | | | |
Decks
Tag Force 4
In Yu-Gi-Oh! 5D's Tag Force 4, Taku uses Decks titled "Three Gorgeous Decks" (ゴージャス三人用デッキ, Gōjasu san'nin-yō dekki)
Three Gorgeous Decks 2 - Main Deck

| | | |
| --- | --- | --- |
| | | |
Three Gorgeous Decks 2 - Side Deck
Three Gorgeous Decks 4 - Main Deck

| | | |
| --- | --- | --- |
| | | |
Three Gorgeous Decks 4 - Side Deck

| | | |
| --- | --- | --- |
| | | |
Tag Force 5
In Yu-Gi-Oh! 5D's Tag Force 5, Taku uses Decks titled "Celebrity Select" (セレブリティ・セレクト, Sereburitei Serekuto)
Tag Force 6
In Yu-Gi-Oh! 5D's Tag Force 6, Taku uses Decks titled "Celebrity Boost" (セレブリティー・ブースト)