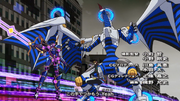 "With The Wind" (With The Wind, Wizu Za Windo) is the first Japanese opening theme of the Yu-Gi-Oh! VRAINS anime, performed by Hiroaki "Tommy" Tominaga. It was replaced by Go forward starting episode 47.
Changes
Lyrics (TV Size)
走り抜ける Across the universe
光の様な早さで
始まる Loading
夢の扉開けて

広がる VRAINS
自分を信じて
続いてく VRAINS
未来を描き出すサーキット
この手でつかもう Yeah

Access!
駆け出せデータストーム!
今 With the Wind
心とリンクして
加速したデータストーム!
今 Win the Race
繋がる世界

新しいどんな時も
不可能なんて無い
この先のキボウ目指して
風に乗って行こう!
はしりぬける アクロス ザ ユニバース
ひかりのようなはやさで
はじまる ローディング
ゆめのとびらあけて

ひろがる ヴレインズ
じぶんをしんじて
つづいてく ヴレインズ
みらいをえがきだすサーキット
このてでつかもう イエー

アクセス!
かけだせデータストーム!
いま ウィズ ザ ウィンド
こころとリンクして
かそくしたデータストーム!
いま ウィン ザ レース
つながるせかい

あたらしいどんなときも
ふかのうなんてない
このさきのキボウめざして
かぜにのっていこう!
Hashirinukeru Across the universe
Hikari no you na hayasa de
Hajimaru Loading
Yume no tobira akete

Hirogaru VRAINS
Jibun o shinjite
Tsuzuiteku VRAINS
Mirai o egakidasu sākitto
Kono te de tsukamou Yeah

Akusesu!
Kakedase dēta sutōmu!
Ima With the Wind
Kokoro to rinku shite
Kasoku shita dēta sutōmu!
Ima Win the Race
Tsunagaru sekai

Atarashii donna toki mo
Fukanou nante nai
Kono saki no kibō mezashite
Kaze ni notteikou!
Running through, Across the universe
at a speed comparable to light.
Begin loading,
open the door to our dreams.

Spreading VRAINS,
believing in myself.
Continuing VRAINS,
the circuit that draws out the future.
Let's grab it with these hands of ours, Yeah

Access!
Start up, Data Storm!
Now, With the Wind,
I Link my heart and mind.
Accelerated Data Storm!
Now, Win the Race,
connecting the world.

No matter the new time,
nothing is impossible.
Aiming at a Hope beyond this,
ride the wind and go!
Video
Characters
Duel Monsters
Monster appearance
Card appearance
Single
The single containing With The Wind was released June 21, 2017, and contains the following tracks:
With The Wind
B-Star!
With The Wind (Instrumental)
B-Star! (Instrumental)
*Disclosure: Some of the links above are affiliate links, meaning, at no additional cost to you, Fandom will earn a commission if you click through and make a purchase. Community content is available under
CC-BY-SA
unless otherwise noted.