Welcome to Yu-Gi-Oh! Wikia,
the Yu-Gi-Oh! Wikia have 115,963 articles, and 218,240 files since May 26, 2005
Anyone is can edit any article they wish, even the best articles need a little change. Become a part of our expanding community and have fun editing!
About Yu-Gi-Oh! Wiki
Yu-Gi-Oh! Wiki Wiki is a collaborate encyclopedia based on all aspects of the Yu-Gi-Oh! franchise. It keeps all of readers updated on all info about Yu-Gi-Oh! Anyone is welcome to edit and become a member. You can visit our Community Portal for introduction or contact administrators for more help.
Featured Article
Barian's Sphere Cube is a device from the Barian World in Yu-Gi-Oh! ZEXAL which grants the Barian race the ability to gather "Number" cards. Before Durbe sent Misael to gather the "Numbers" from Yuma and Astral, he gave Misael three cubes, one for himself and other two for Gilag and Alit. When used, the Sphere Cube transforms into a red Sphere Field, used to gather the "Numbers", which Barians cannot usually do themselves.
Latest Episodes
"The Lone Barian Knight: Misael the Galaxy-Eyes Master Appears" is the eighty-second episode of the Yu-Gi-Oh! ZEXAL anime. It first aired in Japan on December 9, 2012.
Durbe, annoyed with the fact that Gilag and Alit have been unable to produce good results, sends out Misael. Before departing, Misael captures "Number 107: Galaxy-Eyes Tachyon Dragon" by sealing it in a blank card. On Earth, Misael Duels Yuma with his new "Number" monster, using the Barian's Sphere Cube. (read more....)
Latest chapter
News
TCG

April 2 

April 16 

May 1 

May 14 

May 14 

June 2 

July 3 

July 10 

OCG

March 27 

April 

April 2 

April 4 

April 4 

April 4 

April 11 

April 18 

April 21 

May 16 

June 6 

July 18 

Anime

English air dates
Japanese air dates

Manga

English chapter dates
Japanese chapter dates
Latest sets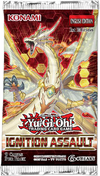 Ignition Assault is a Booster Pack in the Yu-Gi-Oh! Official Card Game (OCG) and Yu-Gi-Oh! Trading Card Game (TCG). It is the eleventh set in the OCG's 10th series.
The set Includes members/support for the "Dragonmaid", "Time Thief", "Karakuri", "Generaider","Gimmick Puppet", "Chronomaly", "Heraldry", "Heraldic Beast", "Number", "Number C", "Xyz", "CXyz", "Rank-Up-Magic", "Witchcrafter", "Unchained", "Unchained Soul", "Mayakashi", "Ghostrick", "Sky Striker", "Sky Striker Ace", "Charmer", "Megalith", "Ancient Warriors", "@Ignister", "A.I.", and "Familiar-Possessed" archetypes, as well as "Gizmek", "Cupid" and "Cataclysmic" series.
The TCG version includes support for the "Plunder Patroll", and "Archfiend" archetypes.
---
... further results
Featured Media
---
*Disclosure: Some of the links above are affiliate links, meaning, at no additional cost to you, Fandom will earn a commission if you click through and make a purchase. Community content is available under
CC-BY-SA
unless otherwise noted.