Team 5D's

Kanji

チーム・5D's

Rōmaji

Chīmu Faibudīzu

English

Team 5D's

Appears in (anime)
Founder
Team 5D's was a team in the World Racing Grand Prix composed of the protagonists in Yu-Gi-Oh! 5D's. With the exception of Bruno, all members of Team 5D's were Signers.
According to Crow, Jack Atlas was the one who chose the team name, although Jack claims that Crow suggested it and that it was better than using a common name. When Leo asks what it means, Bruno jokes about it, resulting in Jack hitting him in the head twice. Jack reveals the true meaning of the name, by showing his Mark of the Dragon, to which Yusei explains that their bonds were formed because of the Crimson Dragon.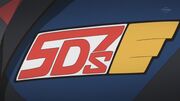 Leo remarks that he doesn't have a mark, although he recalls that he and Luna wouldn't have met everyone else if it wasn't for her birthmark. Jack still tells Leo that he is included with Luna on the team, as well as Bruno. After that, Yusei says that from that day forward they are all officially "Team 5D's". In the team, Bruno, Leo, and Luna act as the pit crew, while Jack, Crow, Yusei, and Akiza are the duelists.
After they won the WRGP, they celebrated their victory, just before the Divine Temple appeared.
After Z-one's defeat, Yusei suggested for the gang to see each other again, after having seen Crow troubled.[1] Because they all had diverse goals in life, Jack decided they have reached the ends of their point as a team and being a team now, would hold them all back, to which they all reluctantly agreed. Following Yusei and Jack's Duel, the team parts ways, leaving New Domino city to follow their individual dreams, while Yusei stayed behind to protect the city.[2]
WRGP Rounds
Team 5D's tactics were heavily based on Synchro Summon tactics. Jack Atlas was the first wheeler, followed by Crow Hogan as the second, with Akiza Izinski as a reserve, and last was Yusei.
References
↑ Yu-Gi-Oh! 5D's episode 152: "An Advancing Future"
↑ Yu-Gi-Oh! 5D's episode 154: "Shining Forth to the Future"
Series
Video games
Story arcs
Duel Terms
Artifacts & Items
Technology
Abilities
Groups
Tournaments
Characters' Decks
Other
*Disclosure: Some of the links above are affiliate links, meaning, at no additional cost to you, Fandom will earn a commission if you click through and make a purchase. Community content is available under
CC-BY-SA
unless otherwise noted.