This is the talk page for discussing the page, Dragons Collide Structure Deck.

Please try to

Be polite
Assume good faith
Be welcoming
Box Art- Dragon's Collide
Well, I find this in the internet, from this web page gamesmart.mx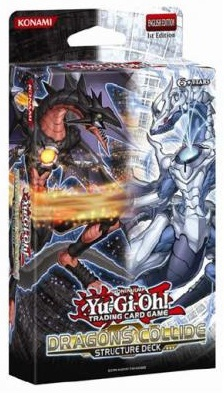 Imagen:Icono_dragón.gif--escrainus escucha 02:44, November 19, 2011 (UTC)
Untitled
Shriek have a release date for the TCG version of this deck, Feb 7th 2012. I would suggest creating the relevant partitions on this deck's page to include the TCG release date etc, or creation of a whole new page, since the name has changed from Dragon Legion to Dragons Collide. Source: [1] Shamus (talk • contribs) 10:54, November 20, 2011 (UTC)
Does anyone know which card in the OCG Dragonic Legion is repeated? Currently the decklist doesn't add up to 40. Thanks. —This unsigned comment was made by 119.224.33.76 (talk • contribs) 10:17, December 20, 2011
Card list missing
Why was the card list removed from this page? There was even an edit war between multiple people over this... --LordGeovanni- (Talk To Me) *Kupo* 18:18, March 30, 2012 (UTC)
Continuation of above topic.
Okay, while I like the Card Lists that are made on the separate page, I actually prefer having the card list of that article on the actual page itself. Skullvarnish just replaced it again while the discussion was going on. Is there any way that the page with the card list is instead merged into the card page about the box itself? Make the current list into the list on the side page and just keep it all together? The second list is MUCH more informative and is also sortable but the first is actually on the page in question. It is sort of like how the archetype pages have the monsters in that archetype at the bottom. it just doesn't seem like a "frog" page if the "frogs" are not on the page, right? The same is here too. I like the ability to just scroll down through the cards without having to jump to different pages. --LordGeovanni- (Talk To Me) *Kupo* 20:39, March 30, 2012 (UTC)
Community content is available under
CC-BY-SA
unless otherwise noted.