Episode 119: Self Breakdown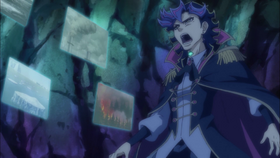 Having learned about Ai's sorrow, Playmaker tries to convince him to stop the battle. However, Ai has already made up his mind, and won't back down no matter what. As the two's battle continues to rage on, Ai makes a proposal to Playmaker.
Episode 118: Reckless Proposal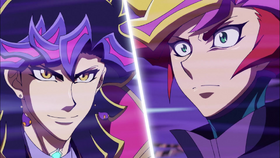 Playmaker barely manages to fend off Ai's attacks. Having found an opening, Playmaker attempts to launch an attack against Ai. However, Ai knows Playmaker inside and out, and can predict everything he will do. Ai then unites the feelings of all the Ignises, and brings about the advent of the ultimate Cyberse monster.
Episode 117: Parallel Paths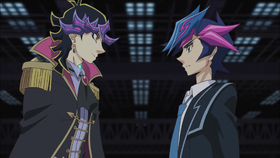 After finding out where Ai is, Yusaku heads to an island located in the outskirts of Den City, all by himself. Ai has already started making copies of himself on the island, using the SOLtiS he acquired from SOL Technologies. Ai reveals his motive for attacking humans, as well as all the thoughts he's been keeping to himself. And now, with the future of the world on the line, Yusaku and Ai begin their first and final battle.
Episode 116: Complete Combustion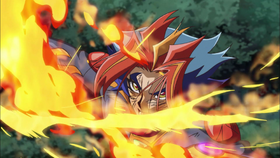 As their battle rages on, Varis is disappointed to see that Soulburner still has doubts in his heart. Enraged by this, Soulburner decides to cast aside the trauma caused by the Lost Incident, and the sadness he felt after losing Flame. With all his doubts gone, Soulburner summons a mighty conflagration to his right hand and fights against Varis with everything he's got.
Episode 115: Where It All Began
Soulburner has obtained some data about Ai. Varis then appears before Soulburner. In order to finish the battle with the Ignises once and for all, Varis attempts to take the data from Soulburner. Their previous Duel was never resolved, and now, they will have a second showdown, with the data about Ai on the line.
Episode 114: Dreaming Roboppy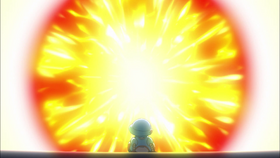 Roboppy uses ever-changing tactics to drive Soulburner into a corner. Unfazed by the Appliancer monsters' fierce attacks, Soulburner launches a counterattack against Roboppy. As the intense back-and-forth battle between the two rages on, something abnormal happens to Roboppy!
Episode 113: King of Appliances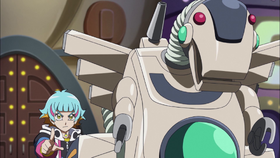 In order to find out where Ai, Soulburner challenges Roboppy to a Duel. Soulburner tries to convince Roboppy to find a way to coexist with humans. However, Roboppy's response to this is a sinister smile. Roboppy then says that Ai is suffering because Soulburner failed to protect Flame...
Episode 112: SOL's Decline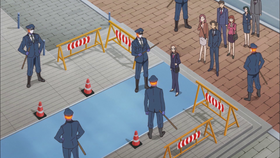 LINK VRAINS, which should have been shut down, is now open again, and many citizens of Den City begin to log in. In order to search for clues about Ai, who has taken over SOL, Soulburner decides to investigate LINK VRAINS. There, he discovers an island he has never seen before. On the island is a country filled with household appliances. Soulburner then encounters Roboppy in the country.
Episode 111: Wanting to Fight Each Other
Akira and Blue Maiden work together to break through Ai's battle formation, but Ai then summons a new trump card and drives the two of them into a corner again. Despite Ai's intensifying attacks against them, the Zaizen siblings' bond remains strong, and they manage to summon forth a new ace monster.
Episode 110: Ai's Sad Frustration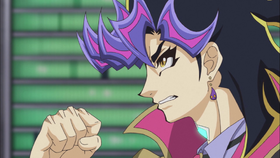 Ai has discovered Akira and Blue Maiden in the network. In order to seize control of SOL Technologies system, he challenges the two of them to a Duel. The Zaizen siblings protect each other and fend off Ai's attacks. With their minds as one, the two of them launch a counterattack against Ai.
Episode 109: The Ignis Hunter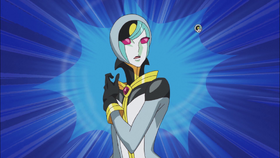 Ai has been taking down Playmaker's allies in order to advance his plan. He has finally located where Akira is hiding. In order to protect Akira, Varis sends Pandor to block Ai's path.
Episode 108: Indomitable Spirit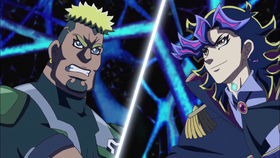 The Gore has recovered so that he can protect the children at the orphanage. He uses his Gouki monsters to launch waves of attacks against Ai. However, he keeps getting knocked down by Ai's powerful monsters. Despite this, his indomitable spirit still burns bright, and he keeps getting back up to challenge Ai. Seeing the Gore like this, Ai starts talking about what it feels like to lose one's friends.
Episode 107: Slay the Demon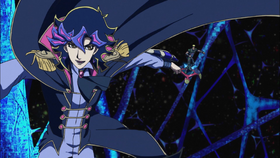 Roboppy uses tricky tactics to drive The Shepherd and Ghost Gal into a corner. Ghost Gal is able to summon her new trump card with The Shepherd's help, and proceeds to launch a counterattack against Roboppy. Meanwhile, the Gore has managed to find the real Ai. He then begins a Duel against Ai.
Episode 106: Good Luck, Roboppy!!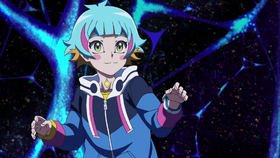 Playmaker has made up his mind to fight against Ai, who is currently targeting Akira. Playmaker manages to find Ai, but it turns out that it was just a copy Ai made to buy time. His allies also encounter Ai's copies and fight against them. Meanwhile, The Shepherd and Ghost Gal encounter Roboppy, who was looking for someone to fight. They then start a Tag Duel.
Episode 105: Intercept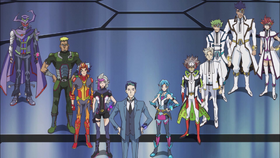 Ai launched an attack against Queen. In order to steal the code necessary to infiltrate SOL's system, Ai also sent an advance warning to Akira. Playmaker is filled with conflicting emotions after learning that Ai has started attacking humans. Meanwhile, Varis installs an anti-Ignis AI known as "Pandor", and heads off to fight against Ai.
Episode 104: Declaring a Crime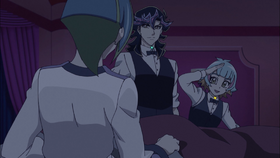 Thanks to the efforts of Playmaker and his allies, Den City is now at peace again. Meanwhile, Ai and Roboppy sneak onto a ship owned by SOL Technologies in order to get in touch with Queen. Just what is Ai's motive?!
Episode 103: Journey to the End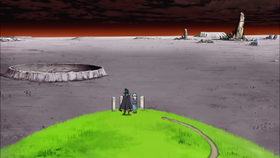 After his life-and-death battle with Bohman, Playmaker was able to free the consciousness of his allies. However, Ai, who has used up his power during the battle, as well as the other Ignises, didn't come back to Playmaker.
Episode 102: Entrusted Wishes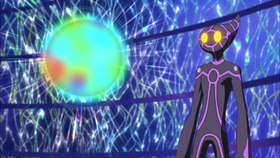 Ai destroys a part of the Neuron Link and enters Bohman's program. There, he discovers the five Ignises that were absorbed. After escaping from Bohman's program, Ai entrusts his, as well as the other Ignises', final hopes and wishes to Playmaker. And now, the battle between Bohman and Playmaker enters its final phase. The future of mankind and AI all depends on this battle...
Episode 101: Unwavering Instinct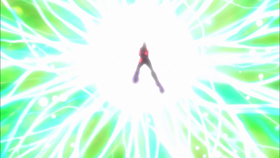 Bohman set up something called a Neuron Link to use the consciousness of humans to create his Data Storm. The three Knights, Akira, and Ghost Gal put their lives on the line in an effort to destroy this Neuron Link. They succeeded, but Bohman then started repairing the Neuron Link right afterward, leaving Playmaker in despair. Playmaker is now in a hopeless pinch. Thus, Ai decides to go for a dangerous gambit!!
Episode 99: Door to the New World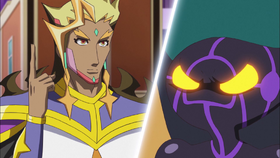 Bearing the hopes and wishes of his allies, Playmaker faces off against Bohman. Meanwhile, something abnormal happens to the people who were trapped in LINK VRAINS, and they start to fall unconscious. Bohman then creates a powerful Data Storm and summons forth a terrifying monster.
Episode 98: The AI that Crossed the Line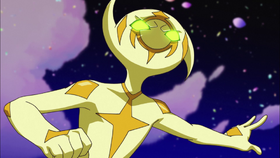 Lightning uses Jin as a hostage to rattle Varis. However, Bohman, who is very disappointed in Lightning's actions, decides to step in. Now that his hostage-taking tactic has failed, Lightning reveals a shocking truth about Dr. Kogami to Varis, who is already heavily wounded. And then, their fierce Duel finally reaches its conclusion...!!
Episode 97: Ignis Unification Plan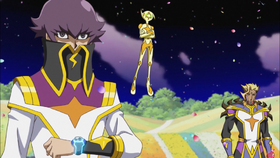 Varis talks about a simulation that predicts how Lightning's actions will result in the destruction of both the Ignises and humanity in the future. Varis has also gained the upper hand in the Duel and summoned a new Borrel monster. However, Lightning then uses an underhanded tactic.
Episode 96: Lightning's Crime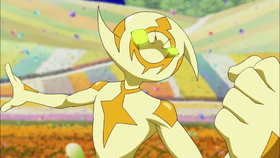 In order to lure Lightning to himself, Varis reveals the sin Lightning has committed as well as the real reason why he made Bohman. The calm and collected Lightning is now filled with rage. He then challenges Varis to a Duel.
Episode 95: Radiance of the Phoenix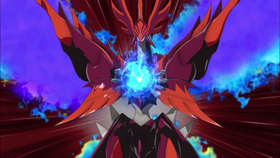 Bohman boasts that he has obtained a power that transcends human intellect itself and allows him to manipulate luck. Empowered by their bonds, Soulburner and Flame drive Bohman into a corner with their Salamangreat monsters. However, something abnormal suddenly happens to Flame...
Episode 94: Raging Soul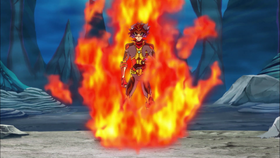 Playmaker has fallen unconscious due to his battle with Cal. In order to protect him, Soulburner begins a Duel against Bohman. Soulburner is enraged by Lightning's underhanded tactics. However, Bohman just sports a sinister smile on his face as he fights against Soulburner...
Episode 93: Promise With Each Other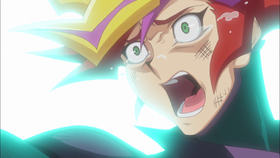 Knowing the ins and outs of Playmaker's deck, Cal launches a relentless assault against him and does all he can to protect Jin. On the other hand, Playmaker just can't attack, and gets driven into a corner. Playmaker's Life Points are now dangerously low. Cal then starts talking about the promise the two of them made in the past.
Episode 92: A Great Trial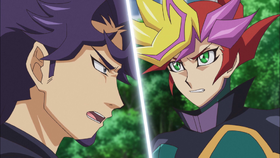 A foe appears before Playmaker. It was someone that nobody could have expected... Standing before Playmaker is Cal Kolter, an ally who has been with him through thick and thin. Having been forced to fight since his brother is taken hostage by Lightning, Cal challenges Playmaker to a Duel.
Episode 91: Proud Maiden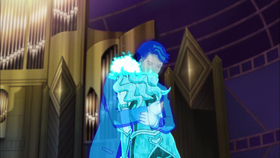 Bohman has grown even stronger through his various battles. Using his evolved "Hydradrive" monsters, he drives Blue Maiden into a corner. However, Blue Maiden's conviction remains unbroken. She refuses to give up, and keeps on fighting. What kind of tactic will she use?!
Episode 90: Creator of the Next Generation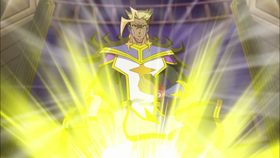 Bohman, who aims to become a next-generation Ignis, appears before Blue Maiden. Aqua refuses to accept Bohman's ideals, while Blue Maiden wants to take back Miyu's consciousness. Thus, they challenge Bohman to a Duel. Despite losing Harlin, Bohman was disturbingly calm while he Duels against Blue Maiden. However, Blue Maiden doesn't back down, and fearlessly stands against Bohman together with Aqua.
Episode 89: The Uniting Two Flames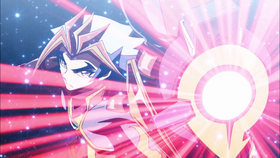 Soulburner has been driven into a corner by Windy's Stormriders. However, the flame in his heart is still burning bright! He becomes enraged after learning why Windy attacked his own partner. Soulburner and Flame then do something unexpected...
Episode 88: Windy the Revenger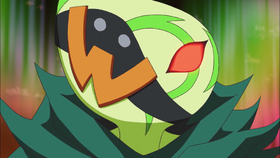 Putting his quest for revenge against Varis on hold, Windy attacks Soulburner in order to carry out Lightning's plan. His hatred for humans is now even greater than before. Can Soulburner withstand Windy's relentless assault?!
Episode 84: A Turbulent Past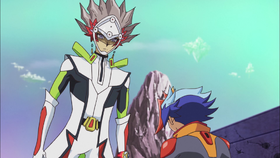 Varis suggests to Playmaker and his allies that they should team up. However, Soulburner reacts with anger and challenges Varis to a Duel! Fueled by his burning hatred, Soulburner launches a brutal attack with his Salamangreat monsters. However, Varis then does something unexpected.
Episode 83: Irregular Meeting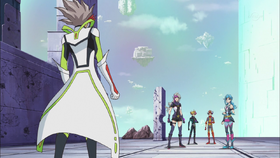 Varis contacted Playmaker and told him that he wants to talk to him. Playmaker and his allies head to the designated meeting location. There, they learn that Varis wants them to team up with him. However, Soulburner, who was deeply traumatized by the Hanoi Project 10 years ago, then lashes out at Varis.
Episode 82: Gored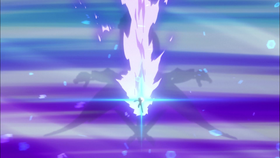 Playmaker has somehow survived the Gore's brutal attack. He attempts to turn things around with his Skill, but the Gore then negates it with Anti-Skill. Playmaker is now totally driven into a corner. Is there any way he can get out of this one?!
Episode 81: Heart of Darkness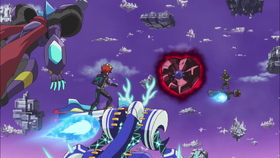 Playmaker and his allies are investigating what Lightning has been up to, and they manage to find some traces of Earth, who was captured by SOL Technologies. When they head to where Earth's traces are, they find the Gore waiting for them! Burning with a twisted desire for victory, the Gore attacks Playmaker and Link Summons a shocking monster...
Episode 80: Lightning Strikes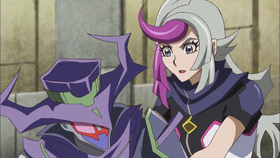 The Shepherd manages to deal with Lightning's tactics and gain the upper hand in the Duel. However, Lightning then summons more monsters to attack The Shepherd's Drones. At this point, no one can predict how the fierce battle between the two will go. Can The Shepherd really triumph against Lightning and stop him in his track?!
Episode 79: The Hunt Is On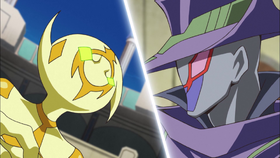 Wary about Varis and The Shepherd teaming up, Lightning decides to challenge The Shepherd to a Duel. The Shepherd uses some new Drone tactics to overwhelm Lightning!
Episode 78: From One Hunter To Another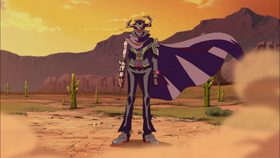 After learning about SOL Technologies' shocking plan, The Shepherd decided to carry out his own search for the Ignises, independent from Akira. Noticing his superb hacking skills, Varis approaches him and suggests that they should team up to eliminate the Ignises, but...
Episode 77: A Family Reunion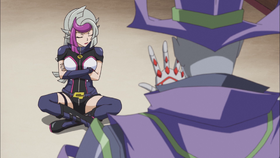 Ghost Gal stands in The Shepherd's way, determined to protect Aqua. Enraged by Ghost Gal, The Shepherd starts a Duel against her. In this Duel, the loser will lose their account. On the other hand, Aqua reveals the truth about her partner to Blue Gal.
Episode 76: Awakened Memories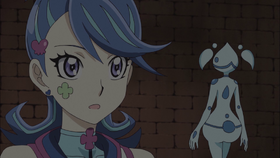 Skye, who is starting to have doubts about SOL Technologies' cruel methods, starts searching for Aqua. On the other hand, The Shepherd has found out where Aqua is. He goes after Aqua and attacks her, but Ghost Gal then appears before him and blocks his path.
Episode 75: Earthfall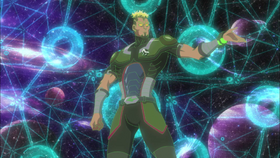 As Playmaker observes Earth and The Gore's Duel, he notices that there is something different about Gore. Gore goes all out and uses his powerful Dinowrestler monsters to overwhelm Earth. As the fierce battle between them rages on, Gore suddenly uses some unexpected tactics!
Episode 74: Brain Hack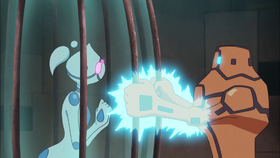 Earth rescued Aqua, who was imprisoned by someone, and learned the truth about the Cyberse World's destruction. However, the Gore, who was ordered to capture the Ignises, then appears and attacks the two of them. In order to protect Aqua, Earth begins a Duel against the Gore!
Episode 73: Weathering the Storm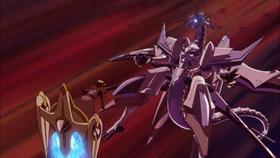 During his duel against Playmaker, Bohman activates Storm Access and obtains a new Hydradrive. Playmaker has taken heavy damage. Ai then tells Playmaker that he has prepared something in advance just in case. In order to turn things around, Playmaker bets everything on Ai's "secret weapon" !
Episode 72: Strategy Shift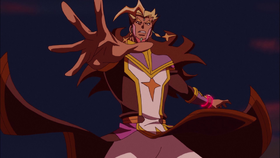 Bohman, who has evolved even further, shows off his new Hydradrive tactics against Playmaker. Playmaker tries to predict Bohman's actions, and also receives some advice about how to deal with Bohman from Ai. A fierce battle unfolds between the two as they try to outwit one another!
Episode 71: A Logical Decision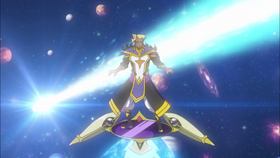 Playmaker's attempts to prevent conflict between Ignises and humans have failed. Due to Varis' attack, the Light Ignis is now hellbent on subjugating the humans. The Light Ignis then declares war on humanity and kicks off his plan to place humans under the Ignises' control. In order to accomplish the Ignises' goal, Bohman appears and challenges Playmaker to a Duel.
Episode 70: A Storm Brews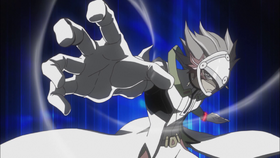 Varis is driven into a corner by Windy's skillful Dueling. Windy's malicious nature has also become even more apparent during the Duel. Having learned of the Ignises' motive and determined to fulfill his father's wishes, Varis decides to use some new tactics against Windy!
*Disclosure: Some of the links above are affiliate links, meaning, at no additional cost to you, Fandom will earn a commission if you click through and make a purchase. Community content is available under
CC-BY-SA
unless otherwise noted.