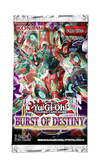 Burst of Destiny is a Booster Pack in the Yu-Gi-Oh! Official Card Game (OCG). It is the sixth set in the OCG's 11th series, following Dawn of Majesty and followed by Battle of Chaos.
The set includes new members/support for the "Ki-sikil", "Lil-la", "Evil★Twin","Magistus", "Machina", "Destiny HERO", "HERO", "Rokket", "Sunvine", "Reptilianne", "Sunavalon", "Starry Knight", "Magikey", "Gunkan", "Borrel", "Despia", "Branded", "Ursarctic", "Drytron", "Ninja", "Penguin", "Floowandereeze", "Icejade", "Topologic", "Swordsoul", and "Sunseed", and "Rokket" archetypes, as well as Cupid and Dog Marron series.
The TCG version includes new members/support for the "Danger!" and "Beetrooper" archetypes and the Cynet and D.D. series.
---