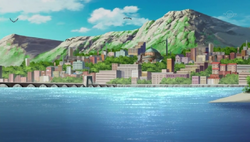 Spartan City is a city in Italy in theYu-Gi-Oh! ZEXAL anime. Its name comes from Sparta, an ancient Greek city-state which was home to the legendary Spartan warriors, while its location and the presence of a Colosseum reference the similar culture of Rome.
History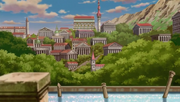 Nistro and Dextra grew up as orphans in this city, with Duel Monsters being their only shred of hope. In search of a Mythyrian "Number", Yuma and his friends arrived in this city to learn of a Duel tournament that Nistro is participating in, with Dextra serving as his manager. There, they learned that a "Mythyrian Number" was hidden underneath a lake. The city also has a large arena, where the Pro Duelist Spartancity Tournament was held which concluded in Nistro's victory.[1][2]
References
↑ Yu-Gi-Oh! ZEXAL episode 103: "Barian Vengeance: Part 1"
↑ Yu-Gi-Oh! ZEXAL episode 104: "Barian Vengeance: Part 2"
*Disclosure: Some of the links above are affiliate links, meaning, at no additional cost to you, Fandom will earn a commission if you click through and make a purchase. Community content is available under
CC-BY-SA
unless otherwise noted.