Yu-Gi-Oh! Rush Duel (遊戯王ラッシュデュエル, Yū☆Gi☆Ō Rasshu Dyueru), or Rush Duels for short, is a card game introduced in Japan alongside the Yu-Gi-Oh! SEVENS anime series.[1] It is currently exclusive to Japan.[2]
Rules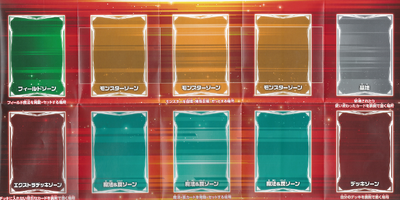 The rules for Rush Duels share some similarities to those of Speed Duels, but have additions of their own. These rules are the primary differences that Rush Duels were advertised as having:
Players can Normal Summon/Set as many monsters as they want in a single turn. Level 5 and higher monsters must still be Tribute Summoned normally.
Players start the Duel with four cards in their hand. During their Draw Phase, the turn player draws cards until they have five cards in their hand. If the player has five or more cards in their hand, they draw one card.

There is no limit to the number of cards in a player's hand.
The player who goes first is still allowed to draw a card on the first turn.
If a player would draw but does not have enough cards left in their Deck (e.g. the player has four or less cards in their Deck and no cards in their hand during the Draw Phase), that player loses the Duel.
Other differences in rules include:
Maximum Summon
Maximum Summoning is a summoning mechanic that is exclusive to Rush Duels.
To Maximum Summon you must have a Maximum Monster in hand, and the 2 monsters listed on the card (which have the same name as the Maximum Monster, but with [R] and [L] in their names. Then you Special Summon all 3 at once from your hand by having an empty field or by sending all monsters you control to the GY.
When Maximum Summoned, they are treated as 1 monster, so they have 1 Attack stat (which is on the middle part). It can also use the effects of both [L] and [R], while the middle part has a Continuous Effect. And when the monster is destroyed or returned to hand etc, all 3 parts go with it.
Maximum Monsters also don't have any Defense, so similar to Links, they can't be changed to Defense Position or be affected by any cards that would use Defense.
Maximum Monsters may also be Normal/Special Summoned normally, which then they use the Attack and Defense listed on the card. But they cannot use their effects as they have not been Maximum Summoned.
Legal cards
Similar to the TCG's Speed Duel format, only cards produced for Yu-Gi-Oh! Rush Duel products will be legal in Rush Duels.[5]
Rush Duel cards use a new layout that is intended to be simple to understand and attractive to the eye. The art frames and effect text boxes are both significantly larger; the Level has been altered to a number over the Level star graphic and moved above the Type line alongside the ATK and DEF values, and the cards have "RUSH DUEL" printed at their base.
Sets
As it is treated as a different card game, Yu-Gi-Oh! Rush Duel products will run in a separate product line to Yu-Gi-Oh! Official Card Game products. The first sets released for Rush Duel will be Yu-Gi-Oh! Rush Duel Starter Deck: Yuga - Open! Sevens Road!! and Yu-Gi-Oh! Rush Duel Starter Deck: Luke - Explosive Conquest! Dragears!!, which can also both be purchased in one set.
The following sets contain cards that can be used in Rush Duels:

Packs:
Deck Modification Pack - Hyperspeed Rush Road!
Deck Modification Pack - Shocking Lightning Attack!!
Character Pack - Gakuto, Romin and Roa
Deck Modification Pack - Fantastrike Mirage Impact!!
Maximum Ultra Enhancement Pack
Deck Modification Pack: Destined Power Destruction!!
Starter Decks:
Starter Deck: Yuga - Open! Sevens Road!!
Yu-Gi-Oh! Rush Duel Starter Deck: Luke - Explosive Conquest! Dragears!!
All "Rush Duel" cards
Anime
Manga
In the anime
In the Yu-Gi-Oh! SEVENS anime, Rush Duels were created by main protagonist Yuga Ohdo as an alternative format that anyone can enjoy, in contrast to the "rigid and uncool" Duels run by adults.[6]
Gallery
References
External links
*Disclosure: Some of the links above are affiliate links, meaning, at no additional cost to you, Fandom will earn a commission if you click through and make a purchase. Community content is available under
CC-BY-SA
unless otherwise noted.