m

(clarifing on what are "roid"s and "Vehicroid"s in game.)

Line 1:
Line 1:
 

[[Image:Vehicroids Linework.jpg|250px|thumb|[[Steamroid]], [[Cycroid]], [[Drillroid]], [[Patroid]], [[UFOroid]] and [[Gyroid]].]]

 

[[Image:Vehicroids Linework.jpg|250px|thumb|[[Steamroid]], [[Cycroid]], [[Drillroid]], [[Patroid]], [[UFOroid]] and [[Gyroid]].]]

 
 
−

The '''Vehicroid''' cards are a set of [[Machine]]-[[type]] [[monster]]s monsters with "roid" in their names and their support cards. The exceptions are [[Elemental Hero Necroid Shaman]] and [[Dark Jeroid]]. They are used exclusively by [[Syrus Truesdale]] from the [[Yu-Gi-Oh! GX]] anime.

+

The '''Vehicroid''' cards are a set of [[Machine]]-[[]] [[ monsters with "roid" in their names and their support cards. They are used by [[Syrus Truesdale]] the [[Yu-Gi-Oh! GX]] anime.

 
+
 
+

In game, only monsters with "Vehicroid" in their names are considered Vehicroids, the others are simply "roid" monsters. In game, "[[Elemental Hero Necroid Shaman]]" and "[[Dark Jeroid]]" are also "roid" monsters on account of having "roid" in their name and as such can qualify for some support designed for the Vehicroids.

 
 
 

{{Vehicroid}}

 

{{Vehicroid}}
---
Revision as of 00:38, 24 October 2007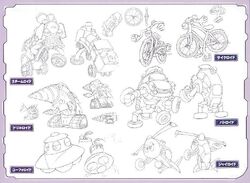 The Vehicroid cards are a set of Machine-Type monsters with "roid" in their names and their support cards. They are used by Syrus Truesdale in the Yu-Gi-Oh! GX anime.
In game, only monsters with "Vehicroid" in their names are considered Vehicroids, the others are simply "roid" monsters. In game, "Elemental Hero Necroid Shaman" and "Dark Jeroid" are also "roid" monsters on account of having "roid" in their name and as such can qualify for some support designed for the Vehicroids.
*Disclosure: Some of the links above are affiliate links, meaning, at no additional cost to you, Fandom will earn a commission if you click through and make a purchase. Community content is available under
CC-BY-SA
unless otherwise noted.