Plácido

Kanji

プラシド

Rōmaji

Purashido

Debut (anime)
Appears in
Gender

Male

Affiliation
Placido is a character in Yu-Gi-Oh! 5D's as well as one of the three primary antagonists of the WRGP arc, and a member of Yliaster.
WRGP Arc
He is a member of the Infinity Trio, and appears to be somewhat impatient as seen during the WRGP opening party, and is very serious as he threatens Jeager, as well as showing no mercy to Bokuru invading the WRGP party. He seemingly holds a grudge against Yusei after the latter defeats Ghost. It would appear he was in league with Rex, as he stated the crimson dragons ruined things for him, and decides to prevent it from interfering with their plans. Placido along with Jose and Luciano appear at the crash site of Wisel's tablet. When Lazar questions their reason for being at a forbidden location, he threatens Lazar by drawing his sword. Luciano says they are Lazar's new bosses. Lazar then immediately recognizes them as being from Yliaster. He then orders him to take the "card" back to Sector Security while deciding to test its power.
Later, Placido is then seen taking the duel disk portion of the Duel Runner from Ghost along with his deck after the Riding Roid lost to Yusei.
During the WRGP opening party, Bokuru wreaks havoc. Placido, as Head of Security, dealt with him personally and dueled him on his Duel Runner. The Security scanned his runner and resulted in an unknown ID, which gives the idea that it was Ghost. He defeated Bokuru with ease using Wisel and also blew up his runner in the process.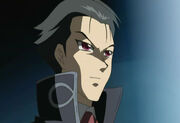 Later, before Luciano's Machine Emperor fell to earth in its tablet, he converses with his allies and states the Crimson Dragon messed things up for Rex Goodwin and he decides to crush Yusei and take Stardust Dragon so that the Crimson Dragon won't be summoned. Luciano then laughs at this, as he realizes that it won't be easy to do such a thing. As Luciano enrolls into Duel Academy in order to lure out Luna, a Signer, he manages to get Placido to play along by disguising him as his butler.
Deck
The monsters owned by Placido, are Machine Emperor Wisel Infinity, and the rest of the Wisel archetype monsters that composes it.
This is the Deck that was utilized by Ghost, but is originally his.
*Disclosure: Some of the links above are affiliate links, meaning, at no additional cost to you, Fandom will earn a commission if you click through and make a purchase. Community content is available under
CC-BY-SA
unless otherwise noted.