For other uses, see: Paradox (disambiguation).
Paradox is the main antagonist in Yu-Gi-Oh! The Movie: Super Fusion! Bonds That Transcend Time. A formidable enemy who travels through time and space to change his destroyed future by fighting Yugi Muto, Jaden Yuki and Yusei Fudo. He wears a mask and his true identity is draped in mystery. In the movie he will steal Yusei's Stardust Dragon and will use it against him. He apparently can steal cards in a duel by using a giant string of unrevealed cards when the card is activated or on the field, and he automatically corrupts them into a Sin monster when he does so. He plans to eliminate the creator of Duel Monsters, Pegasus, and destroy the three historic duelists, attempting to save the future from ruin. He interrupts a Turbo Duel between Crow, Jack Atlas, and Yusei Fudo, in order to steal the Stardust Dragon.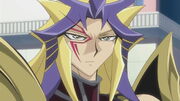 He is a Turbo Duelist.
Some of his cards have been revealed to be corrupted versions of "Blue-Eyes White Dragon", "Red-Eyes B. Dragon", "Stardust Dragon", "Cyber End Dragon" and "Rainbow Dragon", three of which have been announced to be "Sin Blue-Eyes White Dragon", "Sin Red-Eyes Black Dragon", and "Sin Stardust Dragon". An image of the corrupted "Stardust Dragon" was shown in a recently released trailer, and subsequent trailers have shown images of the corrupted "Rainbow Dragon" and "Cyber End Dragon".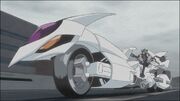 Paradox's Deck
Paradox's Deck includes the "Sin" monsters, an archetype composed of DARK Dragons which are corrupt versions of other series' protagonists' trump Monster Cards.
Manga

Anime

Storylines

Plot elements
Games
Others
Franchise
Movies
Video games
Anime storylines
Plot elements
Series
Video games
Story arcs
Duel Terms
Artifacts & Items
Technology
Abilities
Groups
Tournaments
Characters' Decks
Other