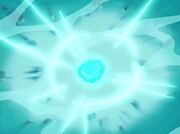 The Orichalcos Stone is the crystal that powers "The Seal of Orichalcos" in the Waking the Dragons arc, named for the legendary material "Orichalcum" featured in one of Plato's dialogues which also contained the characters "Critias" and "Timaeus". They were created by The Great Leviathan.
Features
To wield a fragment of the stone, the owner must be deemed worthy by it. If so, they are able to hold the stone in their hand and be granted great power. If they're not, their souls are taken by the stone and fed to the Great Leviathan. The stones are maintained by the darkness within the owner's heart, just like the Seal of Orichalcos magic card. The darker the owner's heart, the more power he can access. But, if they overcome the darkness, the stone will shatter to pieces.
The people who are chosen by the stone gain power and mystical abilities that rival the Millennium Items. They have the power to materialize Duel Monsters. When inside the seal, it even allows the owner to control an Egyptian God. When the stone is thrown to the ground, it summons one or more Orichalcos Soldiers.
They also have the power to unlock and dispel the Seal of Orichalcos, but only from the outside, and at the risk of the owner's soul. Other abilities include casting illusions, teleporting in a flash of light, and showing mental visions.
*Disclosure: Some of the links above are affiliate links, meaning, at no additional cost to you, Fandom will earn a commission if you click through and make a purchase. Community content is available under
CC-BY-SA
unless otherwise noted.