| | |
| --- | --- |
| | It has been suggested that this article be renamed to Number Ruins. (discuss) |
A Number's Ruins are ruins where the "Legendary Number" cards are sealed guarded by its spirits across the world in the Yu-Gi-Oh! ZEXAL anime. Each ruins consist of deadly traps and inscribe a legend on its wall telling the story of the person who occupied that location in a previous era, before they became ruins due to the ravages of time.
Number 44's Ruins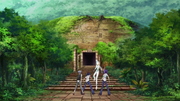 The Number 44's Ruin is where one of the "Legendary Number" a sleeps. On its wall, It inscribes that a pegasus named Mach who served a legendary hero lived. Three knights who lived in his land attempted to usurp the King, but were intercepted by Mach and his master. Since the hero was unwilling to kill his former comrades, both master and steed were eventually defeated and killed. However, the hero's fellow knights regretted their actions and they buried him and Mach together. Mach later became the "Number" spirit guardian of "Number 44: Sky Pegasus". Kazuma Tsukumo and Durbe had been in this ruin long time ago. Yuma Tsukumo and co. travel to this ruin and challenged Mach who is guarding the sealed "Number".[1]
Number 65's Ruins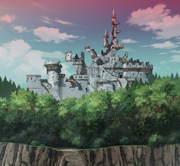 Number 65's Ruins is a Number's Ruins where "Number 65: Judge Buster the Adjudicutting Djinn" asleeps. The Ruin speaks of legend about a ruthless prince. Vector and "Dark Mist" arrived to this ruin defeating the "Number's" guardian, Battle Ox.
References
↑ Yu-Gi-Oh! ZEXAL episode 99: "A Duel in Ruins: Part I"