A Number holder is one who came into contact with and wielded a "Number" card in a Duel.
Possessed Duelists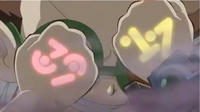 "Numbers" have the ability to possess people, and do so when they are initially released. Numbers can have varying control over people, from increasing their already present emotions (as in the case with Flip) to actually controlling and manipulating their mind (as with Nelson Andrews). Some "Number"-possessed wish to gain more "Numbers" (Number 20's holder, Chills, and Scorch). Possessed Duelists can usually be seen with glowing purple pupils and a dark glowing aura around their body. "Number 7" is the only one that does not possess the Duelist and instead gives them luck, which is seen as a rainbow aura.
Known Possessed Duelists
Number Hunter
A Number Hunter (ナンバーズ・ハンター, Nanbāzu Hantā, Numbers Hunter) is any being who collects "Number" cards for one reason or another. Kite Tenjo[1] claimed himself to be a Number Hunter, being the only one, but later he identified Yuma Tsukumo as a Number Hunter.[2] Yuma most likely does not consider himself a Number Hunter, after seeing what Kite Tenjo does after he defeats a holder, but he falls into the category, as he and Astral both collect "Numbers", and have a motive for it. Number Hunters have ways of detecting when a Number holder appears, and a method to take away that Number when they defeat it. A Number holder possessed by the card wanting more "Numbers" cannot be considered to be a Number Hunter, as their motivations are not their own, but by the "Number's" will.
Known Number Hunters
Anime
Manga
Resistances
These people are immune to the corrupting effects of "Numbers".
References
Anime
Manga
Arcs
Video games
Duel Terms
Items
Technology
Abilities
Tournaments
Groups
Characters' Decks
Other