This article is a stub. You can help the Yu-Gi-Oh! Wikia by expanding it.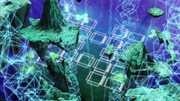 A Master Duel (マスターデュエル, Masutā Dyueru) is a term used in the Yu-Gi-Oh! VRAINS anime used to describe the standard Duel format used in previous Yu-Gi-Oh! series. It uses the standard Dueling rules instead of Speed Duel rules.[1]
According to Varis, only a Master Duel can unleash the true potential of Link Monsters.[1]
References
Series
Arcs

Pre-Tower of Hanoi

Tower of Hanoi

Lost Ignis

Ignis War

Ai's Rebellion

Duel terms
Items
Technology

A.I. Dueling Chip (Duel A.I. Implant Chip)

Mirror LINK VRAINS

Neuron Link

Tower of Hanoi

Groups
Abilities
Events