Japanese:

マジシャンズ・サークル

Romaji:

Majishanzu Sākuru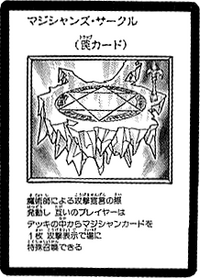 Card type
Property
Effect type

Activate when a Magic User declares an attack. Each player can Special Summon a Magician from their Deck in Attack Position.

---

Viz Media lore<nomobile>?:</nomobile> <mobile>(The English manga by Viz Media sometimes uses lores which are inconsistent with the Japanese lore or how the card worked.):</mobile> You can only activate this card when a Spellcaster-Type monster declares an attack. Each player selects 1 Spellcaster-Type monster from their Deck, and Special Summons it in face-up Attack Position on their side of the field.

Appearances

Millennium World: Yu-Gi-Oh! Millennium World - Duel 064|064

Property "Yu-Gi-Oh Millennium World chapter appearances (linked)" (as page type) with input value "Yu-Gi-Oh! Millennium World - Duel 064|064" contains invalid characters or is incomplete and therefore can cause unexpected results during a query or annotation process.
Other languages
| | Name | Lore |
| --- | --- | --- |
| Japanese | マジシャンズ・サークル | 魔術師による攻撃宣言の際発動し 互いのプレイヤーはデッキの中からマジシャンカードを1枚 攻撃表示で場に特殊召喚できる |
Images
Decks
Search categories
*Disclosure: Some of the links above are affiliate links, meaning, at no additional cost to you, Fandom will earn a commission if you click through and make a purchase. Community content is available under
CC-BY-SA
unless otherwise noted.