Koji Yamamoto is a character appearing in the Yu-Gi-Oh! 5D's Tag Force games.
In the English version, his name is changed to Bawnji, who is a character from the previous Tag Force games, known as Yasuhiro Yamaguchi in the Japanese version.
Appearances
Bawnji resides in Tops.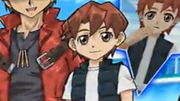 Tag Force 4
In the second event of Mina Simington's story, the Player and Mina duel against Leo and Bawnji.
Tag Force 5
In Duel Academy Luna's first event, Bawnji and Emma Tag Duel against the player and Luna.
Gifts
The player is able to give Bawnji gifts. The following table details how much he likes or dislikes the gifts.
Tag Force 4-6
Strongly likes
Likes
Neutral
Dislikes
Strongly dislikes
Household

Historical movie
Animated movie

Glass
Bouquet
Letter writing set
Memory card
Chip
Documentary movie
Suspense movie
Comedy movie
Ear cleaner
High quality chip

Soap
Shampoo
Rinse
Hair gel
Toothbrush
Razor
Lip balm
Eye drops
Socks
Gloves
Eye patch
Earplugs
Fan
Hand warmer
Back scratcher
Wax
Romantic movie
Horror movie
Sci-Fi movie
Musical movie
Perfume

Fountain pen
Domino set
The Daily Duel
Toilet paper
Clothespin

Figures

Grandmaster of the Six Samurai
Dark Magician Girl

Getsu Fuhma
Marauding Captain
White Magician Pikeru
Ebon Magician Curran
Card Ejector
Cyber ​Tutu
Dian Keto the Cure Master
Stardust Dragon
Red Dragon Archfiend

Dark Magician
Vampire Lord
Freed the Matchless General
Gambler of Legend
Obnoxious Celtic Guard
Fairy King Truesdale
Izanagi
Legendary Flame Lord
Mei-Kou, Master of Barriers
Lucky Pied Piper
Apprentice Magician
Miracle Flipper
Dharc the Dark Charmer

Harpie Queen
D.D. Warrior Lady
Mist Valley Shaman
The Unhappy Girl
Amazoness Paladin
Shadow Tamer
Allure Queen
Dryad
Fire Princess
Maiden of the Aqua
Thunder Nyan Nyan
Injection Fairy Lily
Aussa the Earth Charmer
Hiita the Fire Charmer
Wynn the Wind Charmer
Eria the Water Charmer

Card accessories

Red Card Protector
Blue Card Protector
Black Card Protector
Silver Card Protector
Gold Card Protector
Rainbow Card Protector
Anarchic Card Holder
Gorgeous Card Holder

Wild Card Holder
Stylish Card Holder

Yellow Card Protector
Purple Card Protector
Orange Card Protector
Pink Card Protector
Green Card Protector
Beige Card Protector
Gray Card Protector
White Card Protector
Brown Card Protector
Khaki Card Protector
Clear Card Protector
Simple Card Holder
Elegant Card Holder
Chic Card Holder
Cute Card Holder
Classic Card Holder

Food & Beverages

Ramen
Fried rice
Spaghetti
Juice
Lunch box

Beef bowl
Salad
Banana
Tea
Green tea
Fancy tea
Cookie
Chocolate
Gum
Rice ball
Sandwich
Sushi
Sandwich (Gold)

Omelet and rice
Rice cake
Orange
Pineapple
Grapes
Strawberries
Melon
Water
Hamburger
Steamed bun
Takoyaki
Pudding
Cake
Ice cream sundae

Curry and rice
Kebab
Apple
Coffee
Milk

Cola
Energy drink
Watermelon

Misc

Baseball cap
Beanie
Beret
Sneakers
Kids' shoes
Stuffed toy frog
Stuffed toy dragon
Crown
Winged shoes
Shoulder massage ticket
Scarf
Ring
Dueling for Beginners
Duel Calculator
Atlas Rising

Bandanna
Straw hat
Helmet
Skateboard
Bat
Soccer ball
Advanced Dueling

Silk hat
Cowboy hat
Boots
Long boots
Leather shoes
Sandals
Wooden sandals
Stuffed toy dog
Stuffed toy cat
Stuffed toy horse
Stuffed toy monkey
Stuffed toy bear
Stuffed toy seagull
Stuffed toy snake
Boxing gloves

High heels
Poker cards
Tarot card
Crystal ball
Fortune sticks
Scented candle
Gold coin
Silver coin
Lucky coin
White dice
Black dice
Cursed dice
Duel Radar
Introduction to Dueling Tricks

Amplifier
Death Match Duel Rope
Duel Gang jacket
Ending Scenes
Decks
Bawnji uses Machine Decks based around cards from the Gradius video game series.
Tag Force 4
Bawnji's Decks in Tag Force 4 are titled "St. Gradius Elementary School" (聖グラディウス小学校, Hijiri Guradiusu Shōgakkō)
St. Gradius Elementary School 1

| | | |
| --- | --- | --- |
| | | |
St. Gradius Elementary School 2

| | | |
| --- | --- | --- |
| | | |
St. Gradius Elementary School 3

| | | |
| --- | --- | --- |
| | | |
St. Gradius Elementary School 4

| | | |
| --- | --- | --- |
| | | |
Tag Force 5
Bawnji's Decks in Tag Force 5 are titled "St. Nemesis Academy" (聖ネメシス学園, Hijiri nemeshisu gakuen)
Tag Force 6
Bawnji's Decks in Tag Force 6 are titled "St. Lifeforce Academy" (聖ライフフォース学園, Hijiri raifufōsu gakuen)
Community content is available under
CC-BY-SA
unless otherwise noted.