Raise a Floppa - The Loop
Play Sound
Jerry Beans Man is a character version of the card, "Jerry Beans Man".
Biography
Jerry Beans Man first appeared when Jesse shared a story with Jaden that took place before he acquired the "Crystal Beasts". He had found a young boy after he was mugged, following the spirit of a "Jerry Beans Man" card. During Trapper's Duel with Jesse, Trapper trapped some of Jesse's Crystal Beasts and threatened to rip the "Jerry Beans Man" card that he stolen from a boy named Tom, who was the boy Jesse knew. Luckily, Jaden came to rescue and saved the spirit, allowing Jesse to claim victory.
The spirit later appears in groups in the Duel Monsters Spirit World in episode 132, attacking multiple Garuda the Wind Spirit and Kurama, alongside other oppressed Duel Monster Spirits.
Non-canon appearances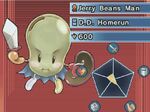 Jerry Beans Man appears in the video games, Yu-Gi-Oh! GX Spirit Caller, Yu-Gi-Oh! World Championship 2007 and Yu-Gi-Oh! World Championship 2008. In World Championship 2008, by beating him ten times, he can be unlocked as a tag partner.
Ability
In GX Spirit Caller, Jerry Beans Man has the ability to allow the player to get a heartfelt present from a Duelist. To make this ability better, the player has to level up the spirit. In order to do this, the player must Summon the corresponding card and win the Duel.
Deck
In GX Spirit Caller, Jerry Beans Man use a Normal Monster Deck titled, "The World's Strongest". In World Championship 2007 and 2008, he uses a Banish Deck titled, "Way of the Weak" and "D.D. Homerun".
Slifer Red
Ra Yellow

Beauregard

Brier

Dimitri

Professor Sartyr

Obelisk Blue

Jasmine

Mindy

Torrey

Fonda Fontaine

Shadow Riders

Nightshroud

Camula

Don Zaloog

Titan

Kagemaru

Duel Monster Spirits

Adhesive Explosive

Jerry Beans Man

Oscillo Hero #2

Winged Kuriboh

Ebon Magician Curran

Ojama Yellow

Jinzo

Babycerasaurus

Acrobat Monkey

Beelze Frog

Blast Asmodian

White Magician Pikeru

Batteryman C

Batteryman D

Kaibaman

Dark Magician Girl

Other Duelist

Para

Dox

Admiral

Prof. Lyman Banner

Non-Duelist

Chancellor Sheppard

Pharaoh

Ms. Dorothy

Sadie
Duel Opponent

Level 1
Level 2
Level 3
Level 4
Level 5
Level 6

Limited Duel Opponent

Level 1
Level 2
Level 3
Level 4
Level 5
Level 6

Theme Duel Opponent

Level 1
Level 2
Level 3
Level 4
Level 5
Level 6

Ghost Duelists

Nightmare Troubadour
Spirit Caller
Download
Misc. Download
Survival Mode

Recipe Duel Opponent
Duel Puzzles Opponent
Tutorial Opponent