The Heartland police are the city's protectors. When Yuma ended up where a criminal was on the ground (after Kite had frozen time), time begun to flow again, and the police grabbed him.[1] They tracked down Charlie McCay, whom had taken "Number 7: Lucky Straight". Although they tried to get him to hand it over, he used the power of the "Number" to get away. Despite their continued efforts, they were unable to capture him.[2]
Weapons
The police appear to use stun batons that visibly crackle with electricity when turned on, and look a dull red when turned off. In the dub, the electricity is changed to the color green, presumably to disassociate the stun batons with the image of being very harmful.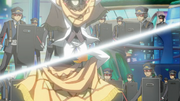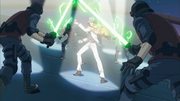 References
↑ Yu-Gi-Oh! ZEXAL episode 13: "The Number Hunter, Part 1"
↑ Yu-Gi-Oh! ZEXAL episode 31: "Life is a Carnival: Part 1"
This article is a stub. You can help the Yu-Gi-Oh! Wikia by expanding it.
Anime
Manga
Arcs
Video games
Duel Terms
Items
Technology
Abilities
Tournaments
Groups
Characters' Decks
Other
*Disclosure: Some of the links above are affiliate links, meaning, at no additional cost to you, Fandom will earn a commission if you click through and make a purchase. Community content is available under
CC-BY-SA
unless otherwise noted.