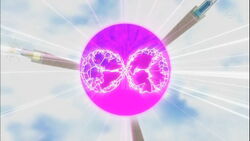 The Grand Design, also known as The Circuit, is an infinity-shaped circuit that the Three Pure Nobles wished to complete in the Yu-Gi-Oh! 5D's anime.
It has been shown during important events concerning Primo, Jakob, and Lester, that the usage of the Grand Design in the end is to enable the gigantic Divine Temple to descend upon New Domino City.
Though not explicitly stated in the anime, it is possible that the Grand Design is a much larger version of the Infinity device created by the Momentum Express Development Organization, as it is in the shape of an infinity symbol, is powered by Ener-D, and is used to open a portal for the Arc Cradle.
History
Jakob revealed that the reason behind using the WRGP is to complete this circuit in order to "unleash the unlimited power they desire".[1] The Iliaster Trio claims that when the circuit is completed, the location of what is apparently their "God" will be revealed to them, and when that happens, New Domino City will be destroyed due to it and the circuit being the same size. However, they think of it as a necessary sacrifice in order to "save the world."[2]
Jakob's plans to complete the Circuit were to do it using the WRGP, but Primo wasn't satisfied with that, and to complete it faster, created an army of Ghosts, called Diablo, and used a Battle Royal system to hurry it up, causing a big chaos in the Neo Domino City. However, this wasn't successful in completing the Circuit.
The Circuit itself is finally completed after Yusei Fudo defeats Aporia in the WRGP finals, allowing the Divine Temple to descend upon New Domino City (in the dub however, the Circuit was not completed, and the Divine Temple disappeared entirely from existence after Aporia's loss). Antinomy later discloses to Yusei that Z-one exploited Team 5D's to complete the Grand Design with the power of the Accel Synchro, regardless of Aporia's defeat.
References
↑ Yu-Gi-Oh! 5D's episode 77: "Dawn of the Duel Board, Part 1"
↑ Yu-Gi-Oh! 5D's episode 106: "Primo's Plan, Part 1"
Series
Video games
Story arcs
Duel Terms
Artifacts & Items
Technology
Abilities
Groups
Tournaments
Characters' Decks
Other
*Disclosure: Some of the links above are affiliate links, meaning, at no additional cost to you, Fandom will earn a commission if you click through and make a purchase. Community content is available under
CC-BY-SA
unless otherwise noted.