Gaia The Fierce Knight is a character version of the card "Gaia The Fierce Knight".
He appears as a Super Rare Partner available in Yu-Gi-Oh! Duel Arena, with a default of 5 Rental Points. His partner ID is P119. He also appeared as an opponent in Duel Monsters Arena mode.
He was only obtainable by achieving any Rank from 1 to 100 on the Arena Weekly Win Ratings (Single) for the time period of October 13, 2014, 00:00 (UTC) through October 19, 2014, 23:59 (UTC). Applicable players received him in their Gift Boxes after maintenance on October 22, 2014.
Description
A speedy knight who battles by two lances. "Spiral Spear Strike" blow through your enemy!
Opponent Quote
I will fight openly and fairly in the name of knight!
Decks
This deck mainly consists of monsters who have the name "Gaia" on them. They can damage the opponent's monsters with penetration effect.
Partner
Post-January 21, 2015
Post-November 5, 2014
Pre-November 5, 2014
Opponent
2 Main Deck cards and 3 Extra Deck cards currently unknown.
Promotion Gallery
Trivia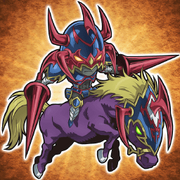 When this partner was initially released, its background artwork was that of the background artworks typically associated with EARTH Normal Partners. At an unknown point in time between November 6 and December 15, 2014, its background artwork was changed to be appropriate for its status as an EARTH Super Rare Partner.
This partner, along with Buster Blader, were likely released in commemoration of Duel Monsters Arena mode (released on the same day).

This is also further supported by the fact that the first versions of their partner Decks comply with the card restrictions of Duel Monsters Arena mode.
Partners

Opponents

Stage 1
Stage 2
Stage 3
Stage 4
Stage 5
Stage 6
Stage 7
Stage 8
Stage 9
Stage 10
Stage 11
Stage 12
Stage 13
Duel Monsters Arena

Other
*Disclosure: Some of the links above are affiliate links, meaning, at no additional cost to you, Fandom will earn a commission if you click through and make a purchase. Community content is available under
CC-BY-SA
unless otherwise noted.