Fire Emblem Warriors: Three Hopes - The Loop
Play Sound
Field

Japanese

フィールド

Japanese (romanized)

fīrudo

English

Other names

French: Terrain
German: Spielfeld
Spielfeldseite (formerly Seite des Spielfelds)
Italian: Terreno
Portuguese: campo (formerly Campo)
lado do campo (formerly Campo)
Spanish: Campo
lado del Campo
Korean: 필드 pildeu
Traditional Chinese: 場 chǎng / ceong4
Simplified Chinese: 场 chǎng
The field (フィールド fīrudo) is the area where Duelists place their cards. Game Mats (or playmats) are often used as field.
The field is divided into two halves, one for each player, with each half having 5 Main Monster Zones, 5 Spell & Trap Zones (including 2 Pendulum Zones), a Field Zone, a Deck Zone, an Extra Deck Zone, and a Graveyard. In the middle of the field, there are 2 Extra Monster Zones, which do not belong to either player while unoccupied.
The "field" referenced by card text is the combination of each player's Monster Zones, Spell & Trap Zones, Pendulum Zones and Field Zones. Thus, the field is shared and each player controls only one side of it.
The field is also unofficially referred to as the board.
Prior to Master Rule 3
Master Rule 3
New Master Rule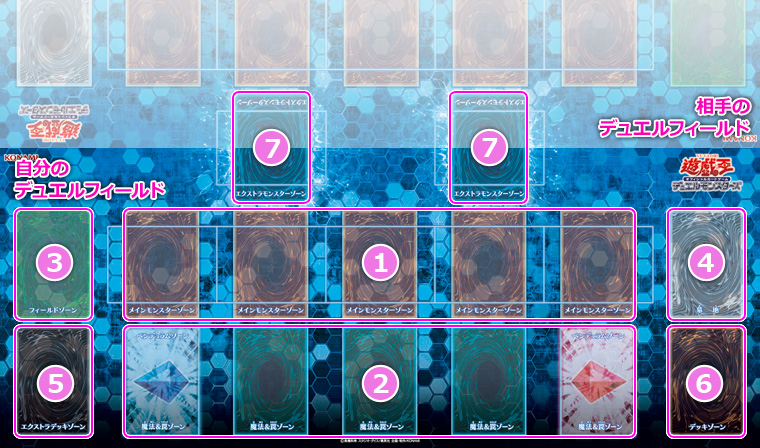 Notes
↑

Not capitalized in the English and Portuguese versions

↑ In the English, German, Spanish and Portuguese versions, such expressions as "your side of the field" and "your opponent's side of the field" are used. In the French and Italian versions, the equivalents are "your Field" and "your opponent's Field", mirroring the Japanese ones which are 自分フィールド jibun fīrudo "one's own field" and 相手フィールド aite fīrudo "opponent's field".