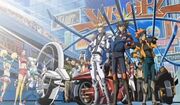 "FREEDOM" (FREEDOM, Furīdamu) is the third opening theme to Yu-Gi-Oh! 5D's. It replaced "LAST TRAIN -Atarashii Asa-" in episode 65. The second version, in which Sherry LeBlanc is revealed, starts from episode 72. Another change takes place each time a "Meklord Emperor" monster is played, resulting in the monster no longer being covered by a mysterious shadow during the end of the opening.
It is replaced by "BELIEVE IN NEXUS" in episode 104.
It is performed by La-Vie.
Changes
Recording credits
Performed by: La-Vie
Lyrics by: Sakakibara Masaaki (榊原正晃)
Composed by: Mase Kōji (間瀬公司)
Arranged by: Ōmura Eiji (木村真也)
Record Label: Marvelous Entertainment(マーベラスエンターテイメント)
Characters
Card appearances
Monsters
Cards
Lyrics
| Rōmaji | English | English 2 |
| --- | --- | --- |
| Kizutsuki sono tabini yasashiku nareru | You get hurt and each time you get kinder. | Getting hurt all those times became easy to get used to |
| Tachiagaru soshite kimi wa tsuyosa wo shiru | You stand up and learn how strong you are. | Stand up and then you will know of your strength |
| furi mukazu hashiite yuku no sa | Rushing past with out turning back. | Turn around and run away from death |
| kako mo mirai mo ima ni tsunagatteru | All leading to the past, future and present. | The past, future, and present are all connected together |
| osoreru koto nante nai sa | There's nothing to be afraid of. | Don't be afraid of what isn't there |
| nandodemo iu yo kimi wa hitori ja nai | I'll say it over and over. You are not alone. | It's been said many times before: you are not alone |
| mune ni himeta atsui omoi wa | My innermost, passionate feelings are | Hidden in my heart, my passionate feelings are |
| mugen no mirai e to kakete yuku | racing towards a boundless future | Dreams of the future and the risk of death |
| ugoki hajimeta yume wa genkai sae koete | My dreams start turning and I can even push it past the limit, | The dream has began to move, with the limits already heard |
| michi biku darou mabayui hikari no sasu basho e | paving the way to where the dazzling light shined upon. | The road leading to that place seems to me to bestruck with dazzlingly bright light. |
Community content is available under
CC-BY-SA
unless otherwise noted.