Eviluder is a character appearing in the Yu-Gi-Oh! ZEXAL manga. He is a Numbers Hunter working under Dr. Faker.
Design
Appearance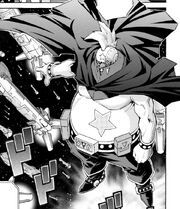 Eviluder is a huge man, with muscular arms and a punk style. He has a spiked Mohican and stars in his forehead and belly. He has no eyebrows and a large nose. His
Duel Gazer
cover the right half of his head, and he covers his mouth and neck with a mechanical-looking device, giving him some resemblance to a
cyborg
. His
D-Pad
is a standard model. Also, he wears no shirt, but a large dark cape instead. His
Main Deck
and
Extra Deck
slots are located at the front of his belt, with an aircraft-related device separating them. Eviluder wears dark pants, boots and bracelets.
Etymology
This character's Japanese name seems to be a portmanteau of "evil" (イビル Ibiru) and "invader" (インベーダー Inbēdā) - adapted to "Eviluder" in English.
Voice/Mannerisms
Eviluder uses terms related to fleets and spaceships, referring to his cards as "his fleet" and to Yuma's "Tin Balloon Tokens" as "anti-aircraft mines", for example.
Biography
One day, the Numbers Club gathered at Cathy's mansion, when a big monitor detected a huge source of energy coming from a Duel involving a "Numbers". Tetsuo Takeda rushed there, and found Eviluder. They Dueled, but Tetsuo lost and was seriously injured, having to be hospitalized.
The following day, as Yuma Tsukumo returned home from school, Eviluder appeared, introducing himself as Dr. Faker's #1 Fleet Commander. He and Yuma then began a Duel.[1]
Although Eviluder quickly overpowered Yuma with his "Number"[2], Yuma managed to win with a card he got from Tetsuo. As Eviluder lost, Kyoji Yagumo showed up and told him that he didn't need incompetent people, and that the moment he became his subordinate, his "pet" - a spider - was already haunting Eviluder's heart. Eviluder promptly screamed and fell to the ground, as the spider attacked his heart. He is presumably dead.[3]
Deck
Eviluder uses a "Starship" Deck.
Duels
References
↑ Yu-Gi-Oh! ZEXAL Rank 22: "Commander!!"
↑ Yu-Gi-Oh! ZEXAL Rank 23: "Menacing Force!!"
↑ Yu-Gi-Oh! ZEXAL Rank 24: "The Numbers War!!"
*Disclosure: Some of the links above are affiliate links, meaning, at no additional cost to you, Fandom will earn a commission if you click through and make a purchase. Community content is available under
CC-BY-SA
unless otherwise noted.