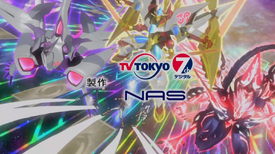 "Dual-ism of Mirrors" (鏡のデュアル・イズム, Kagami no Dyuaru-izumu) is the fifth Japanese opening theme of the Yu-Gi-Oh! ZEXAL anime, performed by petit milady. It debuted in the anime on April 14, 2013, and aired during episodes 99 to 123. It was replaced in episode 124 by "Wonder Wings".
Changes
Recording credits
Performed by: petit milady (petit milady)
Lyrics by: Natsumi Tadano (只野菜摘)
Composed by: Ken Matsutani (増谷 賢)
Arranged by: Seiki Satou (佐藤清喜)
Record Label: Universal Music ZERO-A (ユニバーサルミュージック ZERO-A)
Videos
TV Version
Lyrics (TV Size)
親友に最初からなれるわけじゃない
それもリアル
真剣なバトルの中でみつける
もうひとつの自分

葛藤からの覚醒は
チャンスのターン!つかむ!ドロー
デュエル!デュアル・イズム

とぎ済ましあうカード
運命の相手は心、映す鏡
もしも<引き分け>のままで

倒れたら泥だらけで讃え合おう

shinyū ni saisho kara nareru wake janai
Sore mo riaru
Shinken na batoru no naka de mitsukeru
mou hitotsu no jibun

kattō kara no kakusei ha
chansu no tān! tsukamu! dorō
dyueru! dyuaru-izumu

togi sumashi au kādo
unmei no aite ha kokoro, ustsusu kagami
moshimo <hikiwake> (tai) no mama de

taoretara doro-darake de tatae aou

It's not like we could have become best friends from the start
That's the reality
In the midst of a serious battle I find
Another me

This struggle-born awakening is
A chance turn! Grasp it! Draw
Duel! Dual-ism

Our cards sharpened by each other
A fated opponent is a heart-reflecting mirror
Even if while it's a tie

We should fall and become muddy, let's honour each other

Character appearances
Duel Monsters
Card appearances
NOTE: Several copies of each card can be seen at the beginning
Duel Monsters Cards INCOMPLETE
Monster appearances
Single
The single containing Dual-ism of Mirrors was released on May 15, 2013, and contains the following tracks:
Dual-ism of Mirrors (鏡のデュアル・イズム Kagami no Dyuaru-izumu)
100% Cider Girl (100%サイダーガール 100% Saidāgāru)
Dual-ism of Mirrors (karaoke)
100% Cider Girl (karaoke)
Trivia
References
*Disclosure: Some of the links above are affiliate links, meaning, at no additional cost to you, Fandom will earn a commission if you click through and make a purchase. Community content is available under
CC-BY-SA
unless otherwise noted.