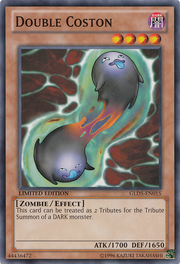 This card can be treated as 2 Tributes for the Tribute Summon of a [...] monster.

— The

TCG

text denoting a Double Tributer
Double Tributers (ダブルコストモンスター, Daburu Kosuto Monsutā "Double Cost Monster") are monsters that can be treated as two Tributes for a Tribute Summon. This applies both while face-up and face-down on the field. They usually work for monsters of a specific Attribute, Type, or archetype.
This is considered an effect and can be negated with cards like "Skill Drain".
Double Tributers are only treated as one card being Tributed for card effects like "Advance Zone". Double Tributers can be used as two of the Tributes for a Normal Summon with 3 Tributes; cards like "Gilford the Lightning" will get their effect if Tribute Summoned with a double Tributer and another monster.
The following cards have an effect that lets themselves or other cards be treated as two Tributes for a Tribute Summon.
List of TCG/OCG Double Tributers
List of Anime Double Tributers
List of Manga Double Tributers
*Disclosure: Some of the links above are affiliate links, meaning, at no additional cost to you, Fandom will earn a commission if you click through and make a purchase. Community content is available under
CC-BY-SA
unless otherwise noted.