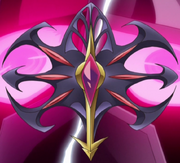 Don Thousand's Emblem is an emblem that is held by Don Thousand and is his own variation of the Barian Emblem. It was an emblem which symbolized the Barian World before Don Thousand's defeat against Astral.
History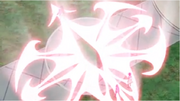 It has thus far been seen when he has used his powers in other ways such as healing Alito and Girag; resulting in them having developed a malicious disposition.[1][2] It appears as a crest like image of this version of the Barian Emblem and has also been seen being used by members of the Fearsome Four of the Dark Dueling World to halve the opponent's Life Points and add it to their own at the very beginning of the Duel, effectively cheating.[3][4][5]
This emblem appears on a wall behind Vector while he dueled Nash (in their past lives).[6] It also appears on his chest, similar to how the regular Barian Emblem appears on Nash's chest in Barian form.[7][8]
The emblem is also on Don Thousand's chest. As he absorbed the energy of the Seven Barian Emperors, the gems on the emblem glowed with that Emperor's respective color.[9]
The emblem makes an appearance on the card "Rank-Up-Magic Admiration of the Thousands".[10]
This emblem could be based on Michael Moorcock's "Symbol of Chaos", as their designs are similar.
References
Anime
Manga
Arcs
Video games
Duel Terms
Items
Technology
Abilities
Tournaments
Groups
Characters' Decks
Other
Community content is available under
CC-BY-SA
unless otherwise noted.