"Djinn" (魔人 Majin, literally meaning Demon-Person or Magic Person) is an archetype of Fiend Xyz Monsters used by Yuma Tsukumo in Yu-Gi-Oh! ZEXAL. It is composed of two-horned, musician-like monsters which mostly focus on anti-Xyz tactics while also supporting one another via their own effects. Their team symbol is a musical eighth note featuring a fiendish-looking face. All members of this archetype are Rank 3 monsters, except for the Rank 4 "Maestroke the Symphony Djinn".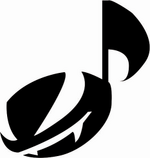 Due to their Japanese names, a number of older cards, such as the "Djinn of Rituals" series ("Ritual Djinns") and "Dark Balter the Terrible" ("Djinn Dark Balter"), also fall into this archetype. However, because their TCG and OCG support only works on Xyz Monsters, the only other cards which receive support from them are "Queen Dragun Djinn", "Number 65: Djinn Buster" and "CXyz Mechquipped Djinn Angeneral".
"Musical Djinn" monsters are the only monsters whose Korean names include Hangul as base text and Hanja as ruby text, to avoid any confusion caused by the Hangul text.
Members

[[Maestroke the Symphony Djinn (D Team)|]]
[[Melomelody the Brass Djinn (D Team)|]]
[[Muzurhythm the String Djinn (D Team)|]]
[[Temtempo the Percussion Djinn (D Team)|]]

Support