Fire Emblem Warriors: Three Hopes - The Loop
Play Sound
Collection Pack 2020 is a Booster Pack in the Yu-Gi-Oh! Official Card Game (OCG).
Features
Includes cards used by Jim Crocodile Cook[1] [2], Don Thousand, Chojiro Tokumatsu, Olga, Roboppi, Aporia, Makoto Inotsume, Yami Marik, Erazor, Kirk Dixon, Yako Tenma, Luna, Stomptroopers, Paradox and Crump.
Includes new members/support for the "Chaos", "Flower Cardian", "Fusion", "Jinzo", "Malefic", "Number", "Number C", "Penguin", and "Polymerization" archetypes.
Introduces the "Appliancer" and "Numeron Gate" archetypes as well as the Glacial Beast series to the OCG.
Includes a special reprint of "Number 39: Utopia" written in Astral glyphs.
Breakdown
There are 5 cards per pack and 15 packs per box. The set contains 46 cards:
Galleries
Lists
Poll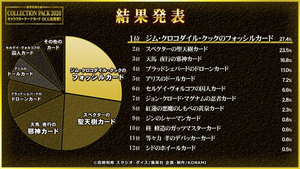 From 5 p.m. January 10, 2020 to 5:59 p.m. January 16, 2020 (JST), a poll was conducted on the Yu-Gi-Oh! Official Card Database to determine which character's theme would be included in this Collection Pack. Voting required a Konami ID with an associated CARD GAME ID.[3][4]
There were 12 themes to choose from, 2 from each series up to Yu-Gi-Oh! VRAINS. All of the themes, except Yako Tenma's Wicked God theme, are from the anime. The winner was Jim Crocodile Cook's "Fossil" cards from Yu-Gi-Oh! GX.
Trivia
This is the first pack to contain a Barian Number that isn't a Number 10X.
References