Black Luster Soldier - Envoy of the Beginning
Japanese:

カオス・ソルジャー -開闢の使者-

Romaji:

Kaosu Sorujā -Kaibyaku no Shisha-

Translated: Chaos Soldier -Envoy of the Beginning-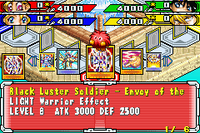 Other languages
Name
Lore
French
Soldat du Lustre noir - Envoyé du Début
Cette carte ne peut être invoquée que par une Invocation Spéciale en retirant un monstre LUMIÈRE et TÉNÈBRE dans le Cimetière de votre jeu. Une fois lors de chaque tour, vous pouvez sélectionner et activer l'un des effets suivants :
• Retirez un monstre du terrain de jeu. Si vous activez cet effet, cette carte ne peut pas attaquer pendant ce tour.
• Si cette carte a été détruite par un monstre de votre adversaire suite à une bataille, il peut attaquer une fois encore juste après.
German
Soldat des Schwarzen Schimmers - Botschafter des B
Diese Karte kann nur dann spezialbeschwört werden, indem du ein LICHT- und ein FINSTERNIS-Monster, die auf deinem Friedhof liegen, aus dem Spiel entfernst. Du kannst einmal während deiner Runde einen der folgenden Effekte auswählen und aktivieren:
• Es wird ein Monster auf dem Feld aus dem Spiel entfernt. Wenn du diesen Effekt aktivierst, kann diese Karte in dieser Runde nicht angreifen.
• Zerstört diese Karte das Monster deines Gegners im Kampf, kann sie noch einmal in einer Runde angreifen.
Italian
Glorioso Soldato Nero - Inviato del Principio
Questa Carta può essere evocata solo con un'Evocazione Speciale rimuovendo dal gioco un Mostro di LUCE e un Mostro dell'OSCURITÀ presenti nel tuo Cimitero. Una volta durante ciascuno dei tuoi Turni puoi attivare uno dei seguenti effetti:
• Rimuovi dal gioco uno dei Mostri presenti in Campo. Se scegli di attivare quest'effetto, questa Carta non può attaccare nel corso di questo Turno.
• Se questa Carta ha distrutto in battaglia uno dei Mostri del tuo avversario, essa può effettuare ancora un attacco.
Spanish
Soldado del Brillo Negro - Enviado del Princípio
Esta carta no puede ser Invocada mediante una Invocación Normal o Colocada. Esta carta solo puede ser Invocada mediante una Invocación Especial retirando 1 monstruo de LUZ y 1 monstruo de OSCURIDAD de tu Cementerio del juego. Una vez en cada uno de tus turnos, puedes seleccionar y activar 1 de los siguientes efectos:
• Retira 1 monstruo en el Campo del juego. Si activas este efecto, esta carta no puede atacar este turno.
• Si esta carta destruye un monstruo de tu adversario como resultado de una batalla, esta carta puede atacar una vez más inmediatamente después.
Decks
Search categories
Yu-Gi-Oh! Destiny Board Traveler
*Disclosure: Some of the links above are affiliate links, meaning, at no additional cost to you, Fandom will earn a commission if you click through and make a purchase. Community content is available under
CC-BY-SA
unless otherwise noted.