Arcane: League of Legends - The Loop
Play Sound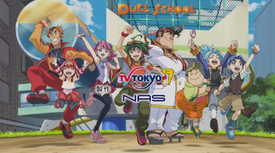 "Believe x Believe" (Believe×Believe, read as Biri Biri) is the first Japanese opening theme of the Yu-Gi-Oh! ARC-V anime, performed by Bullettrain. It debuted on April 6, 2014, and aired during episodes 1 to 30. It was replaced in episode 31 by "Burn!"
Recording Credits
Performed by: Bullettrain (超特急 Chōtokkyū)
Lyrics by: Takafumi Fujino (フジノタカフミ)
Composed by: Takafumi Fujino (フジノタカフミ)
Arranged by: MEG.ME
Record Label: SDR
Video
TV Version
Full Version Music Video
Changes
Lyrics (TV Size)
Believe×Believe ビリ・ビリ・ビリ Buddies!

優(You)!勝ち負けじゃない最強のCard
遊(You)!スピード全開 ハラハラ On the game
Dan・Dan・Dan・Dan Done!Done!Done!Done!
Dan・Dan・Dan・Dan Done!Done!Done!Done!
揺れる ma ma ma mind
魂のペンデュラム 究極のコンフュージョン
衝動がGot it got it
勝負はガチガチ 本気レボリューション
(Just breakin' the wall...×2)
Ride on now!

Believe×Believe
Everybody goin' 壁を突き破れ!
You're gonna beat it beat!
∞のフューチャー 迷いはぶっ飛ばぜ!
Make it Make it 勇気出して(Break it now)
Step ahead!踏み出せよ(Do it now)
お楽しみはこれからだ!So 誰もが Believer!!

Believe
×
Believe
 ビリ・ビリ・ビリ 
Buddies
Birību × Birību biri-biri-biri Badīzu!

Yū! Kachi make janai saikyō no Kādo
Yū! Supīdo zenkai harahara On za gēmu
Dan-Dan-Dan-Dan Dan! Dan! Dan! Dan!
Dan-Dan-Dan-Dan Dan! Dan! Dan! Dan!
Yureru ma ma ma Maindo
Tamashī no pendyuramu kyūkyoku no konfyūjon
Shōdō ga Gotto itto gotto itto
Shōbu wa gachi gachi honki reboryūshon
(Jasuto burēkin' za wōru... x2)
Raido on nau!

Birību × Birību
Eburibadi gōin' kabe wo tsukiyabure!
Yua gona bīto itto bīto!
Mugendai no fyūchā mayoi wa buttobase!
Meiku itto Meiku itto yūki dashite (Bureiku itto nau)
Steppu aheddo! Fumidase yo (Du itto nau)
Otanoshimi wa kore kara da! So daremo ga Birībā!!

Birību × Birību biri-biri-biri Badīzu!
Characters
Duel Monsters
Card Appearance
Monster Appearance
Trivia
The way this song's name is pronounced is a pun on "biribiri", an onomatopoeia for electricity sparking, as electricity can be heard several times in the song when the name is sung. This is also reflected in the PV's choreography, in which the members of the band dance as if they were being electrocuted when they sing "biribiri".
At the beginning of the video, Yuya's silhouette appears on four cards. This could be an early reference to him and his dimensional counterparts, Yuto, Yugo, and Yuri.
 

Japanese

Sound Duel 1

"Believe x Believe (TV Size)"
"DDD"

Sound Duel 2
Sound Duel 3

Breathtaking Offense and Defense

The Fight Begins

Pride on the Line

Busy Busy

The Warrior's Trump Card

The Battle Begins!

Wave the Flag of Rebellion

The Curtain Rises

The Stadium Goes Wild

The Duelist's Determination

The Truth is Revealed

Academia's Assault

Looming Monster

Something to Protect

A Battle Beyond Imagining

Yuto's Passionate Soul

A Wall to Overcome

The Gears of Fate Begin To Turn

Cheer Up

Splendid Entertainment!

The Evolving Falcon

This is the Latest and Greatest Evolution in Dueling!

Sound Duel 4
Vocal Best!!