Alexis Rhodes is a video game depiction of Alexis Rhodes, a character from the Yu-Gi-Oh! GX anime.
She appears as a Legend Partner available in Yu-Gi-Oh! Duel Arena, with a default of 6 Rental Points. Her partner ID is P007.
Description
A beautiful Duelist and member of the top class at the "Duel Academy", "Obelisk Blue."
Decks
A Fusion Deck centered around "Cyber Girls" and "Spellcaster-Type" cards. Base your strategy around Fusion Summons of "Cyber Blader". Using "Ground Collapse" will also make "Cyber Blader" easier to use!
Post-July 30 (or August 6 or 13), 2014 maintenance
Pre-July 30 (or August 6 or 13), 2014 maintenance
Trivia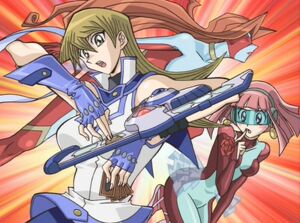 This character's various "Ice" and "Snow"-themed monsters in her Main and Side Decks are taken from her manga counterpart's Deck.
Anime, manga, books
Video games
Partners

Opponents

Stage 1
Stage 2
Stage 3
Stage 4
Stage 5
Stage 6
Stage 7
Stage 8
Stage 9
Stage 10
Stage 11
Stage 12
Stage 13
Duel Monsters Arena

Other
*Disclosure: Some of the links above are affiliate links, meaning, at no additional cost to you, Fandom will earn a commission if you click through and make a purchase. Community content is available under
CC-BY-SA
unless otherwise noted.