"@Ignister" (@イグニスター Atto Igunisutā) is an archetype of Cyberse monsters with various Attributes debuting in Ignition Assault that is used by Ai in the Yu-Gi-Oh! VRAINS anime. It is supported by the "Ai" archetype.
Design
Appearance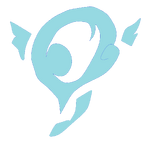 The Deck consists of multiple Cyberse monsters with various shapes and forms. The fodder monsters resemble blobs with different designs, but with coloration resembling that of the Ignis. By contrast, the boss monsters have more defined traits.
Members like "Dark Templar @Ignister" and some associated like "Linguriboh" are essentially corrupted versions of monsters used by Playmaker ("Decode Talker" and "Linkuriboh", respectively). On top of that, the archetype's boss monsters all have 2300 ATK, a direct reference to the "Code Talkers".
All "@Ignister" monsters have a common symbol, which is an irregularly shaped blue ring on their bodies, which looks sort of like an "@" symbol.
The Deck represents Ai's memories of himself and his fellow Ignis, before the latter were terminated.
Etymology
"@Ignisters" takes their name from the Ignis, and possibly a wordplay of "administer". Conceptually, the Deck is an amalgamation of all six Ignis. The "@" in their names could be a reference to the traditional way of spelling e-mail addresses, which is strengthened by the order of their wording (e.g. "Light Dragon @Ignister".com). The lower Level monsters reference onomatopoeia words used within the Japanese language.
Members
Fodder
Boss
Other
Playing style
The archetype seems to rely on swarming and beatdown strategies, courtesy of "Ignister AiLand" and "Dark Templar @Ignister" to Summon multiple boss monsters. In addition, the Deck also seems to possess lockdown strategies against attacking via "Ai Ai Wall" by using an opponent's Link Summon to add counters to prevent attacking
Trivia
This archetype appears to collaborate with the Ignis and the "Code Talkers", regarding Attributes and dueling styles.

The order of appearance of this archtypes boss monsters also mirrors the ''Code Talkers''.

Although with different Attributes, some monsters from this archetype (like "Wind Pegasus" and "Light Dragon") are similar to the Satellite Admins from Mega Man Star Force.
This archetype bares similarities to the "D/D" archetype. They both focus on different summoning methods (though "@Ignister" doesn't focus on Pendulum Summoning, while "D/D" doesn't use Ritual Monsters), as well as elite swarming to use each summoning methods with their methods of strategy, use monsters with different Attributes (unlike "@Ignister", "D/D" doesn't use LIGHT monsters), and their Spell and Trap Cards are their own series ("Ai" for "@Ignister" and "Dark Contract" for "D/D").
This article is a stub. You can help the Yu-Gi-Oh! Wikia by expanding it.
Community content is available under
CC-BY-SA
unless otherwise noted.