The Nazca battle which took place in the eight Millennium B.C. consisted of the Crimson Dragon battling the Crimson Devil, Red Nova.[1]
Sides
Red Nova
Crimson Dragon
Servants
Signers
History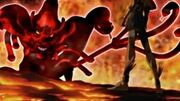 The Crimson Dragon and its five servants all fought the Crimson Devil, Red Nova.[1]
From the fires of a volcano, a male Signer appeared. He bore the full Mark of the Dragon on the left of his chest. He performed a miracle when he faced the Crimson Devil: The Signer took the Crimson Dragon's power, through Blazing Soul and used it to fight the Devil, defeating it and sealing it.[1]
References to the battle
10,000 years later when Jack Atlas faced Red Nova's servant, the Familiar in a ritual Duel, where the Familiar attempted to resurrect Red Nova. Greiger noticed similarities between Jack and the Legendary Signer, as Jack spoke of having a Blazing Soul. Jack also used the Blazing Soul ability to absorb the Crimson Devil's power and defeat the Familiar.[1]
References
↑ 1.0 1.1 1.2 1.3 Yu-Gi-Oh! 5D's episode 113: "Burning, Seething Soul! Scar-Red Nova Dragon"
Series
Video games
Story arcs
Duel Terms
Artifacts & Items
Technology
Abilities
Groups
Tournaments
Characters' Decks
Other
Community content is available under
CC-BY-SA
unless otherwise noted.